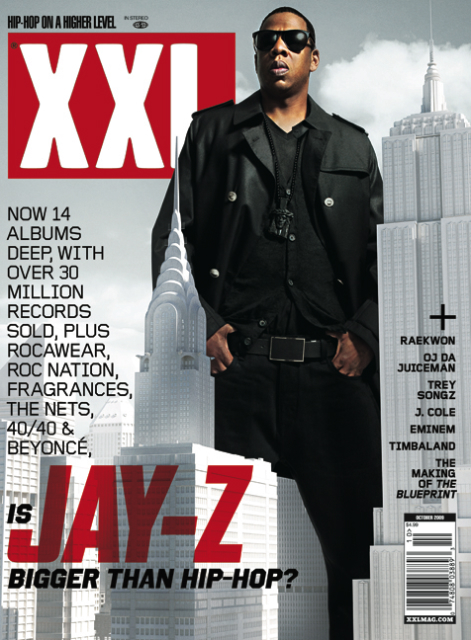 Just in time for the release of his 11th studio album, Blueprint 3, rap star Jay-Z is featured on the cover of the October 2009 issue of XXL Magazine. Check out a few excerpts from the issue, which asks if Hov is indeed "bigger than hip-hop" below:
CRITICISM OF "D.O.A. (Death of Autotune)"
"I'm not hating on young people. Like, when people say that, I'm like, What are you talking about? It's just stupid. I'm not hating on young people… I'm not Bill Russell, [saying] Michael Jordan ain't shit. I'm saying Lil Wayne and Kanye are like LeBron and Kobe. My job as someone at the forefront of the game is to leave it in a better position than when I came in. Same way that Russell [Simmons] left it to me. 'Cause this thing saved my life. Literally. So I have a responsibility to it karmically. And after that it's on you. I did my part. I made 'D.O.A.' I said it. I made the statement. I made the push. Here, y'all take it from here."

HIS LEGACY AS FORMER DEF JAM RECORDS PRESIDENT
"So if you ask me to grade my performance as the president, I'd say A-plus. No one can bat a 100. It's impossible. I mean, everyone is looking at my sh*t. But if we really looked under the hood [of] every single [record exec] and the acts they put out in that time, I'd be comparable to anyone."

HIS STANDING IN THE GAME
"But when I say I'm the best, I don't say that outta my ass. I say that with all my stats behind me. I put that against anybody. I mean anybody. I really believe that… I believe in a lot of things. ?I believe that 'SportsCenter' is the best thing on TV. I shouldn't have to prove it. But I do have these stats to prove it. I'm talking about real run. I'm not talking about years off. I'm talking about straight—boom, boom, boom—back to back. We're not talking about heritage acts either. We're not talking about respect what I've done. I'm talking No. 1 [albums] 10 times. The Beatles is the only one [to have more ?No. 1 albums]. They got 19, and if I get a surge of creativity, I could make nine albums next year."
Pick up the issue when it drops September 15th!
Be the first to receive breaking news alerts and more stories like this by subscribing to our mailing list.