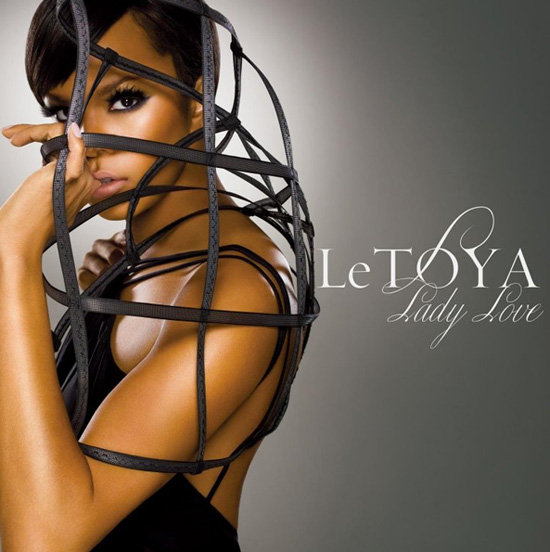 Ex-Destiny's Child member LeToya Luckett returns with her sophomore album Lady Love after the success of her No. 1 self-titled debut. Lady Love doesn't submit itself to today's dance pop craze and LeToya stays true to her R&B roots. Everyone loves good old school R&B but is this good enough to keep the Houston-born singer relevant? Keep reading to find out!
Lady Love: When the song starts, it sounds like it should be a short interlude to the album but then the track progresses. The track is definitely nothing special and I don't think it should have been the opening of the album. Should be a filler track. (2.5/5)
She Ain't Got…: Swing batta batta batta… LeToya's second single and the most pop song on the album. The electric guitars, synth, and drums add to the very catchy song. We've all heard the story before: man cheats on a woman and the woman goes off stating that she's much better than the new woman. The only difference here is that it's incorporated into a hard club song. (3.5/5)
Not Anymore: I wasn't too keen on this song when it was first released because I didn't think the video fit. After listening to it again, I'm actually feeling it. The lyrics and vocals are on point in the mid-tempo track. Nevertheless, there are two cons to the song: the random "this is dedicated to…" that repeats towards the end of the track is distracting and kind of takes you out of the mood of the song. Also, I feel the track would be better if it was simply piano and drums instead of the synth that's added in the chorus. (3.5/5)
Lazy: Definitely one of the best tracks on the album. LeToya claims that her heart has gotten lazy and that she doesn't feel like loving anymore. The beat is infectious and you'll bop your head through the song. I can see this doing well if released as a single. (4/5)
Good To Me: I can't decide how I feel about this track. It isn't anything worth calling home about but I can't deny that the beat is very catchy. Though it isn't a club song, I can see this playing during the "slow jams" set at a club while teens grind out to it. And very surprisingly, LeToya belts out a line towards the end and it doesn't sound half bad. (3.2/5)
Over: Ms. Luckett warns her man that it would be "over" if he ever cheated on her in this mid-tempo ballad. The production is nice and she sounds good. Is it single worthy? Don't really think so. (3.5/5)
Regret: This is the track that lost over "She Ain't Got…" for Toya's second single and it features Ludacris. She later confirmed that this would eventually be released as a single. The production sounds extremely familiar and if you're a fan of Kelly Rowland's sophomore album, you'll notice that the track has been recycled from her song "Ghetto" with Snoop Dogg. It's a decent track but clearly an album filler and definitely not single worthy. (2.8/5)
I Need A U: The track is a very old-school sounding, love making slow jam. LeToya tries out the old trend of doing a song with light breathy vocals. It's not bad but it doesn't really fit her. She isn't the greatest singer and singing that light doesn't help showcase her voice. Thankfully, she goes back and forth between the breathy vocals and her normal ones. (3.5/5)
Take Away Love: Another album filler that features British singer Estelle. The beat is nice and smooth but the track is nothing special. I actually got sick of the track 75% of the way through and moved on. (2.5/5)
After Party: Not a complete party jam but this track does have an upbeat tempo that you can dance to. There isn't much substance to the song and it only works as a feel good song. (2.8/5)
Drained: After a slew of decent tracks, I'm really glad this track came along. It's not GREAT but it's definitely better than the last few. The track is R&B but could possibly be considered a little Pop. The beat is nice and smooth and her vocals sound nice in it. (3.5/5)
Tears: Another slow jam where LeToya talks about how her man makes her feel. It's a sweet song and I can see how some will receive it well. It's one of those songs that you either like or you don't. (3/5)
Matter: Clearly another album filler. It has almost the same message as "She Ain't Got…" but it's much more slow and boring. (2.5/5)
Love Rollercoaster: For some reason, this sounds more like a Mims track instead of LeToya's, even though Mims is just a feature. He raps on the first and second verse while Toya just has the hook and third verse. Once again, another filler track and not really feeling it. (2.5/5)
Don't Need You: Just like the whole album, she's singing about a relationship…again! The piano in this is beautiful and overall, it's a nice track. Her vocals are solid but if you've heard the other tracks, you've heard this one. (3.3/5)
Swagger: This is the album's bonus track and I thank God that it's just a bonus track and not on the main album. The track is nothing special and I don't think it suits her. I can't see her doing a video or even a performance to this type of song. (2.5/5)
Overall, I was really disappointed with this album. I am glad LeToya didn't choose to go take the route everyone seems to be taking and change up her sound. She stuck to straight R&B and I appreciate that. But, she did not come hard enough with this album. Track by track, she carried on about a cheating man, loving her man, or NOT loving her man. The subject matter stayed the same and the production didn't vary too much either.
Vocally, she sounds good but as we all know, she does not have the best voice in the game, which is why I thought the album would be much better than it was. Except for one or two tracks, I cannot see any other song being a single or being deemed as "hot." With that said, the stand out tracks are: "She Ain't Got…," "Not Anymore," "Lazy," and "Good To Me." Good effort but mediocre album at best.
Overall, when my tallys are calculated, the album gets a 3/5. Lady Love is in stores now!
By: Kenni Nwajagu
Contributing Editor for Gossip On This
Follow me on Twitter for album updates and more. And keep reading GOT for more album reviews. Feel free to e-mail me at kenni@gossiponthis.com (or contact me via Twitter) if there are any reviews you'd like me to do.
Be the first to receive breaking news alerts and more stories like this by subscribing to our mailing list.