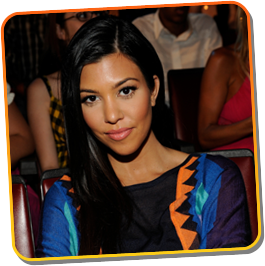 Socialite turned TV personality Kourtney Kardashian says that her pregnancy, which she is five months into, is a "bittersweet" experience due to the fact that her late father, attorney Robert Kardashian, isn't here to experience the joy with his family. She also revealed that "almost" doesn't want to get married because he won't be here to give her away at the altar:
"I wish my dad was here, but I know that he is here with us [in spirit], and I feel like this is definitely a blessing from him," Kourtney, 30, tells PEOPLE of her father, who passed away at age 59 in 2003 after being diagnosed with esophageal cancer. "I would love for him to be here and experience this all. I feel like he would be so happy."

Kardashian's mom, Kris Jenner – who divorced Robert in 1989 and subsequently married former Olympian Bruce Jenner – has also gotten emotional about his absence. "My mom was crying, like, 'Your dad would be so happy.' And you know, I feel like it's cool, because I feel like he's here."  In fact, Kardashian says, "It's bittersweet, and that's how I feel about getting married, too. I almost don't want to get married because I don't want him to not be there."
But Kardashian will keep her father's legacy alive by emulating his parenting, she says. "I would like to be how my dad was as a parent to us," she tells PEOPLE. "He would always be our friend, but not too much. We would know that we could go to him and tell him everything."

Kardashian says her dad was stricter than her mom, and thinks that she's likely to posses that characteristic as a mother herself. "I think I am strict, she says. "Even [my younger half-sisters] Kendall and Kylie say, 'You are going to be the meanest mom,' because one time at Disneyland I yelled at Kendall because she was throwing a brat attack, because my mom wouldn't buy her a Tinkerbell shirt … I was like, 'That's not how you teach your kids!' "

But she won't be too harsh with her own child. "Definitely you want to spoil your kids," she says. "But I want them to learn responsibility and want them to make their own money. My dad taught us that."
Be the first to receive breaking news alerts and more stories like this by subscribing to our mailing list.