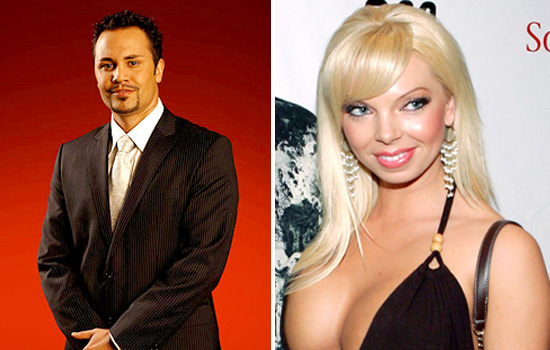 UPDATE: The man authorities arrested at an airport in Toronto, Canada was NOT Ryan Jenkins. As of right now, Jenkins is still on the loose…
TMZ is reporting that Ryan Jenkins, a former contestant on VH1's "Megan Wants a Millionaire" reality series, was arrested at an airport in Toronto, Canada. Jenkins was charged with the murder of his wife, Jasmine Fiore Thursday (Aug 20), which is 5 days after the super model's mutilated body was found stuffed into a briefcase.
According to reports, Jenkins strangled and beat Flore before stuffing her naked body into a suitcase and placing it inside a dumpster in the Buena Park area of Southern California on the morning of August 15th 2009. Police also say her teeth and fingers had been removed in an obvious effort to evade investigators attempting to identify the remains. Investigators ended up identifying Fiore, who was last seen alive with Jenkins in San Diego, by using the serial numbers from her breast implants.
Ryan and Jasmine checked into the Lauberge Del Mar hotel last Friday night (Aug 14). Investigators say Jenkins left the hotel that following Saturday morning (Aug 15) with a grey suitcase, and later that day Ryan Jenkins reported her missing. Fiore hasn't been seen alive since.
Upon hearing the news, VH1 halted all future airings of Megan Hauserman's show, "Megan Wants a Millionaire," where 32-year-old Ryan Jenkins was originally a contestant and supposed overall winner of the show, though VH1 hasn't yet confirmed who actually won. But there are rumors floating around saying Ryan told his friends he won $250,000 after being chosen as the winner. So VH1 decided it'd be best to pull the plug on the show as it would put them in a very bad position to continue to air it in light of the charges recently brought against him. They've even removed the show completely from VH1.com.
Be the first to receive breaking news alerts and more stories like this by subscribing to our mailing list.