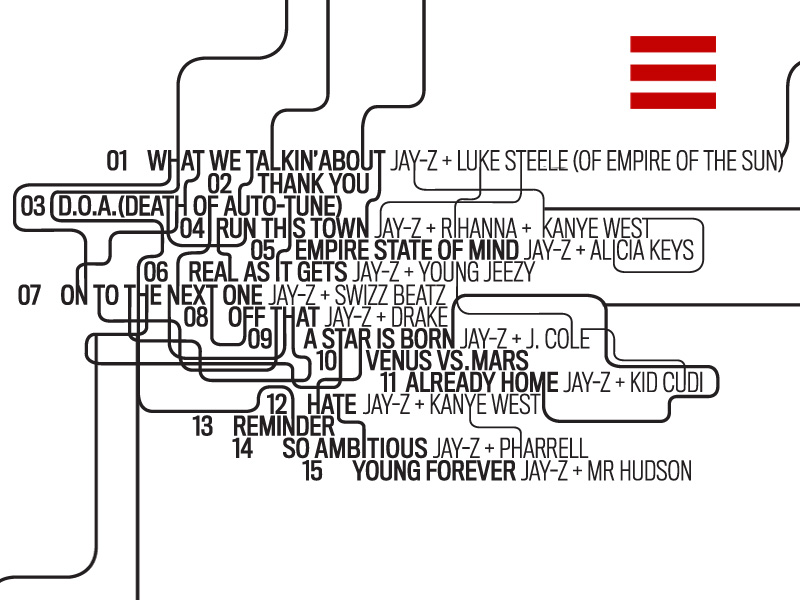 Above is the newly released backcover and tracklisting of Jay-Z's upcoming 11th studio album The Blueprint 3. This looks promising and we're definitely looking forward to hear what the collaboration with Alicia Keys sounds like!
Also, big ups goes to Drake for being able to have a guest appearance on one of the most highly anticipated albums to drop this year. Dude doesn't even have an album out and he's already infiltrating the game with the quickness!
The Blueprint 3 hits stores September 11th. Check out a text version of the tracklisting below:
01. What We Talkin' About (F/ Luke Steele of Empire of the Sun)
02. Thank You
03. D.O.A. (Death of Auto-tune)
04. Run This Town (F/ Rihanna and Kanye West)
05. Empire State of Mind (F/ Alicia Keys)
06. Real as it Gets (F/ Young Jeezy)
07. On to the Next Move (F/ Swizz Beatz)
08. Off That (F/ Drake)
09. A Star Is Born (F/ J. Cole)
10. Venus vs. Mars
11. Already Home (F/ Kid Cudi)
12. Hate (F/ Kanye West)
13. Reminder
14. So Ambitious (F/ Pharrell)
15. Young Forever (F/ Mr. Hudson)
Be the first to receive breaking news alerts and more stories like this by subscribing to our mailing list.