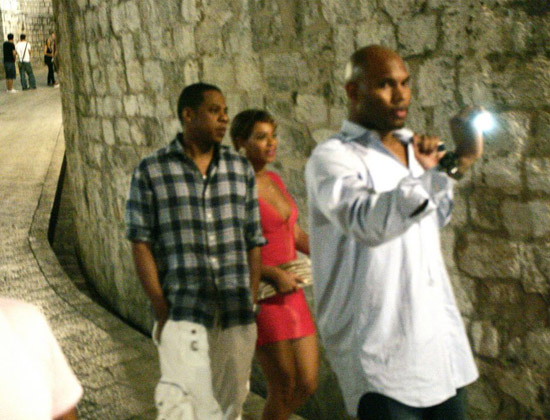 Beyonce and Jay-Z's vacation in Croatia took a turn for the worst Tuesday night (Aug 18) as those thirsty paparazzi tried to get some snaps of the couple as they were heading to their yacht to have an intimate dinner with some friends. Apparently Bey's bodyguard Julius and her husband Jay-Z wasn't having it! You can even see Jay trying to hold Julius back in the pictures and video that follow.
Continue reading for more pictures AND a 3 minute video of the entire incident!

As the three walked to the boat that would lead them to their yacht, Julius flashed a flashlight in the eye of the cameras to attempt to their their shots off. But the paps didn't care. They got closer and closer and Julius eventually knocked one of the cameras off of the tripod, which was only the beginning of the mad frenzy. In the video, you can hear the photogs/cameramen cursing and yelling things like "F**k you, mother f**ker" and Julius responding with "Your mother's a whore!"
Once Bey, Jay and Julius got into the boat, a paparazzo thought it'd be funny to throw his tripod at Julius … but the big 6 foot something bodyguard didn't get the joke. As he picked up the tripod and swung it at the photographers on the scene, you can Jay trying to hold him back and yelling "Stop, stop, stop!" in an attempt to calm him down. So instead of whopping those nutjobs over the head with the tripod, Julius decided to throw it in the ocean, which was met by applause by several onlookers. Police were eventually called to the scene.
There are pros and cons to being a worldwide star. Having photographers hound you all the way in Croatia must be one of the cons!
PHOTOS: BEYONCE WORLD
Be the first to receive breaking news alerts and more stories like this by subscribing to our mailing list.