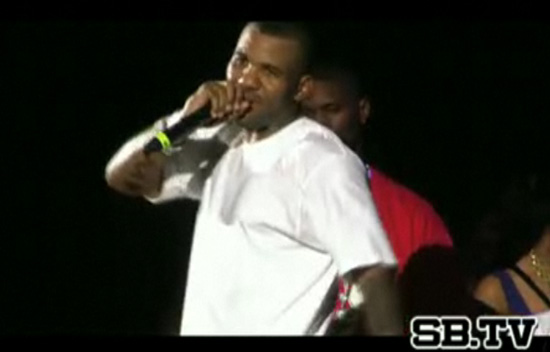 Rapper The Game has decided to continue his one-sided beef with fellow rapper Jay-Z by humiliating Hov's fans who attended his concert at London's Hammersmith Apollo. One by one, The Game calls them up to the stage (some don't make it that far) only to put them to shame in front of the crowd. Continue reading to check out the video!
We're not sure if The Game realizes that not only are these Jay-Z fans, but also HIS fans. In trying to make a name for himself and get attention, he is not only turning people against him but he's starting to look very immature. Also, he recently stated that he lost sponsorship from Polo for attacking Beyonce. In the words of Jay-Z … sucker!
In other Game news, not surprisingly, he has responded to Jay-Z's comments that he is a "groupie":
"There's one thing about Jay man, let's not confuse who it is we're talking about," Game said in an interview. "This dude is real slick, real witty and I never hated on his legacy or his old music but this new, everything he putting out to date is just trash. We don't want no parts to it and I feel like a lot of people have been wanting to voice their opinions but nobody has because as soon as I came out with the whole Jay-Z thing, everybody jumped on. And it even surprised me because I'm thinking everybody with Game just hating but it was like a pretty cool split. Half the people were like Roc-A-Fella this, that and the other half was like Jay-Z old, washed. So, I wouldn't be on the phone if it wasn't blown out of proportion at this point…Some people don't wanna get old…He just old and bitter and when anybody say my name in a rap, I'm gonna lock in…My fans expect me to respond and I ain't lost a rap beef to date…He just really needs to sit his old a** down somewhere and let the new n*ggas make money…He knows if he goes to war with me, it's gonna be never-ending. From Joe Budden to Memphis Bleek to Ras Kas to Yukmouth to G-Unit as a staff, record label and group, I'm a one-man army man. I will tear you down. They will stop wearing Roc-A-Wear clothing…If Jay responds with a song, it'll be on his album because he's a pretty smart dude, witty, and he knows it'll benefit him more to put it on The Blueprint, if and when he does, just be on the lookout for '400 Bars' …I'm a really put my pen on the paper and really strike a match."

SOURCE: SOHH
We're starting to think it's about time Jay-Z just spits a simple freestyle and shut The Game up…but then again, we'd rather Jay not stoop to that level. He's too big for that childish sh*t!
Be the first to receive breaking news alerts and more stories like this by subscribing to our mailing list.