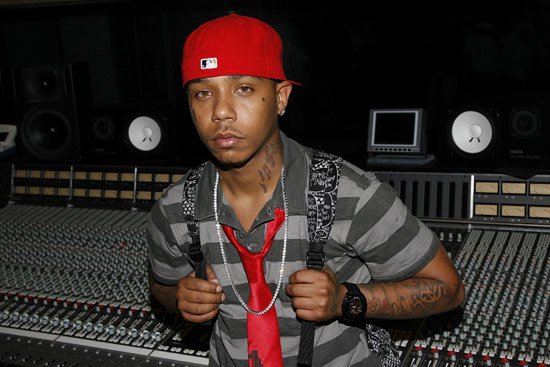 A California woman is accusing Yung Berg of giving her a black eye. A young woman by the name of Chelsea Berry says she and Yung Berg met at a pool party at his home back in June and when she and two friends visited his home last Wednesday (Jul 15), things turned a little sour. He was allegedly with three of his friends, someone from his label and another young lady, and after one of Berry's friends left, she says she and Mr. Dark Butt were "playing around" and he threw her into the pool.
Later in the evening after her second friend left the little get together, Berry stayed behind as she waited for her clothes to dry. That's when all of the drama went down…
In a detailed account of what allegedly went down, exclusively sent to All Hip Hop, Berry said she got a little jealous when the pint-sized rapper disappeared into a room with the other young woman, whom Berry calls "Shay." Chelsea says she cursed Berg out after she was prevented from entering the room and that's when he proceeded to hit her.
"He striked [sic] me with the palm of his hand, like about three times. On my head, on my eye, and I was falling back like, 'What did I do? What did I do?,'" Berry told AllHipHop.com exclusively. "And that's when he told me to leave. Then [his friend] Sincere was like, 'Calm down, I'll give her a ride.'"

Once outside Berg's Woodland Hills home, the young lady said another woman appeared, who offered to "handle the situation" for Berg. Still semi-nude, and "soaking wet," Berry was given a coat to wear in lieu of her dress, which no one was able to locate, she recounted. Once she got into the vehicle, Berg allegedly announced that he was coming along and proceeded to get into the car on the driver's side.

"When they pull out, Berg's like, 'we're not taking her home,'" Berry continued. "[We] end up driving all the way up this hill in the middle of nowhere, I had no idea where I was at, and tells me to get out. I was crying and saying 'I'm gonna get you back. I'm about to call my friends when I get out.' And that's when Berg gets out and comes over to me and says he's sorry, and then he grabs my phone and throws it and my phone completely shattered."

Berry, who said she was left with a black eye following the incident, claimed that after being left on the hill at around 3:00 A.M., she hitchhiked until she finally got a ride home, where she arrived around 6:00 A.M. While she told her roommates, some friends and her mother what had happened the night before, she was unsure about contacting authorities.

"Some people were telling me [not to] call the police [because] he might get me killed," she explained. "I just didn't know what to do. I just pretty much stayed in the house the whole day."

Berry finally filed a police report on Thursday night (July 16), presumably with the West Valley Community Station, which serves the Woodland Hills community. However, she could not recall which precinct she visited with her mother. She was told she would be contacted within a week. The LAPD could not confirm or deny that a complaint had been filed. According to one Officer Faden of the LAPD's Media Relations Department, since the accusation was domestic in nature, the report and names mentioned were considered confidential.

"We're not able to release any information unless an arrest has actually been made," Officer Faden told AllHipHop.com.
But Yung Berg (born: Christian Ward) denies the whole story! Upon reading reports of the alleged incident, Yung Berg's manager and attorney contacted All Hip Hop strongly denying the allegations. They admit that little Christian does know Chelsea Berry, but are holding on to claims that the incident she described in an exclusive interview with the popular hip hop website never happened.
"The allegations are entirely false and without merit. Yung Berg would never conduct himself in such a manner. This is clearly a pathetic attempt for publicity. Let's focus on reality, namely, Yung Berg as the multi-platinum, ASCAP Award-winning artist, songwriter and producer."
Who in their right mind would want free publicity courtesy of Yung Berg's name? Something in the milk ain't clean about this whole thing…
Be the first to receive breaking news alerts and more stories like this by subscribing to our mailing list.