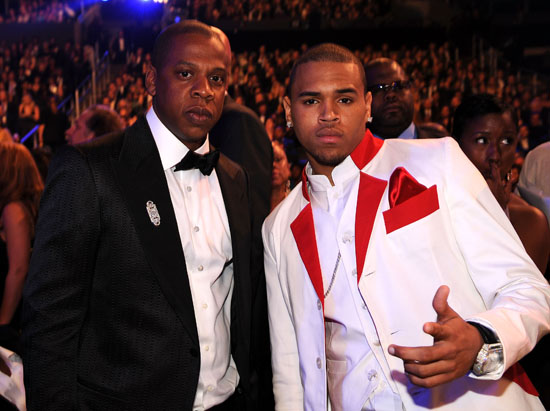 Jay-Z finally put that ridiculous rumor of him c*ck blocking Chris Brown's performance at the BET Awards to rest:
"That's the silliest rumor I've ever heard," Jay-Z said in a new interview with radio personality Tim Westwood. "First let me categorically deny that, that's not even my style. I haven't said anything live or behind the scenes. I don't agree with what he did and that's it. We're all flawed human beings, all a person could do is apologize. Everyone should be allowed to make mistakes. But as far as not letting him perform on BET — that's ridiculous, that's stupid and that's a sucker move. I wouldn't do it. And people commenting on rumors — that's a sucker move. I was really sitting back and watching all of them suckers comment on that," Jay-Z continued. "You don't comment on rumors. I was watching like, 'look at them. That's just so silly. They are all really stupid.'"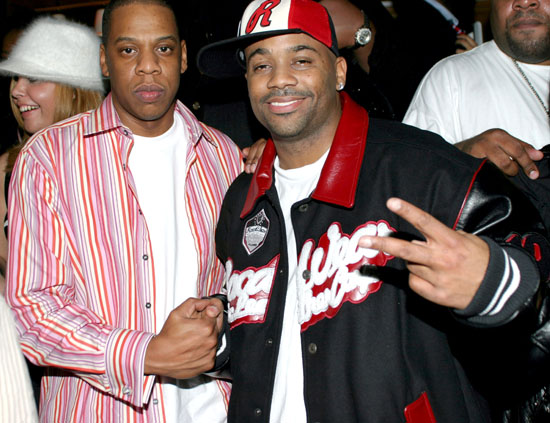 The "sucker" he's referring to is his ex best friend Damon Dash, who had this to say earlier this month regarding Jay-Z allegedly preventing Chris from performing a Michael Jackson tribute at the show:
"Are you surprised?" asked Damon Dash. "Wasn't I his best friend? Didn't he do that to me? So you think he's not going to do that to Chris Brown? He's just being a little more flagrant about how he moves."
He also commented on The Game's diss track and exaggerated response to his mention in the Blueprint 3 intro:
"Tell me exactly what I said….(Tim: you mentioned his name, Jim Jones' name, Dame Dash's name…) I said I'm not talking about, this, this. I'm not…Is that a diss? 'Oh, you hurt my feelings.' Tell groupie to get over it…If that's a diss, then wear that. Tell groupie to get over it."
And this is why we love Jay-Z over here at GOT. And just so you know, we're not gonna sit here and rub in your face the fact that we told you (twice) that Jay had nothing to do with Chris Brown not performing at the BET Awards. But we will say that we told you so! Hah!
SOURCES: MISS INFO / BILLBOARD
Be the first to receive breaking news alerts and more stories like this by subscribing to our mailing list.