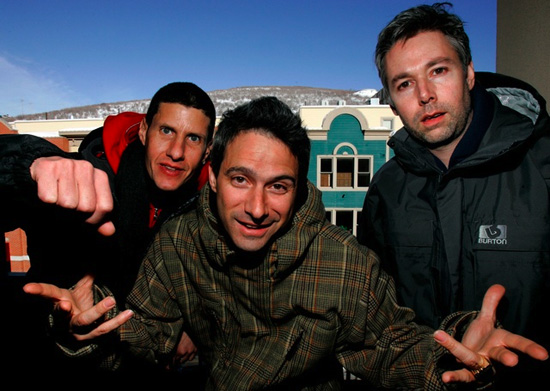 The Beastie Boys will have to hold off the release of their new album and cancel some upcoming gigs due to a shocking announcement that one of the group's members, Adam "MCA" Yauch, has been diagnosed with cancer. The hip-hop pioneer made the announcement via a video on YouTube, alongside bandmate Adam Horovitz, saying that doctors recently found cancer in his parotid gland (located in the throat) and in a lymph node. According to Yauch himself, in most cases if spotted early on (which it was), doctors are able to completely get rid of it.
The video announcement was remarkable for its informality and immediacy. As it begins Mr. Yauch says "This is crazy" and the two men laugh. Mr. Horovitz quickly says, "It's not funny," and Mr. Yauch agrees: "It's not funny. It's dead serious." He then says "I have some pretty heavy news" and begins a rambling description of his symptoms, delivering the news of the cancer diagnosis a minute into the video.
While the mood is serious, the friends and bandmates find themselves laughing several more times. Mr. Yauch says, "It's not in a place that affects my voice, so that's nice," and Mr. Horovitz adds, "Which is a plus." Mr. Horovitz later apologizes for his scruffy look, saying, "Adam didn't say why I was coming down here, so I just, I was on my couch watching TV."  Mr. Yauch says the look is appropriate for Mr. Horovitz's country music side project, adding, "This will be a great opportunity, you'll have some time now."

Eventually, after Mr. Yauch has apologized at length to fans for the canceled shows, Mr. Horovitz looks into the camera and says, "And we'll see you."

SOURCE: NYT
Be the first to receive breaking news alerts and more stories like this by subscribing to our mailing list.