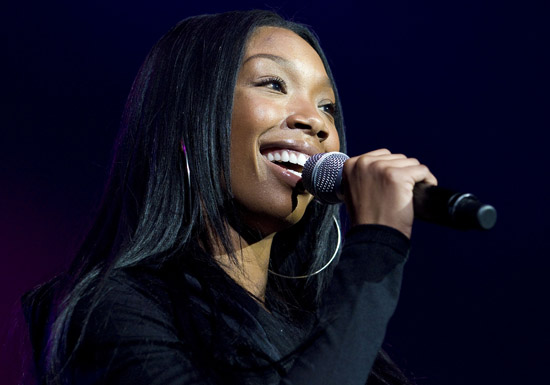 According to Jawn Murray over at AOL BV Buzz, R&B singer Brandy has been released from her recording contract with Epic Records due to subpar album sales. The 30-year-old's fifth studio album, Human, released on December 8th 2008, has only sold 196,509 units to date.
"Her friend Brandon Creed that works as an A&R representative at Epic Records has been making calls to see if other labels would be interested in signing her," a record company source told me.

In addition, Brandy has also parted ways with her management. The former 'Moesha' star had been represented in recent months by Jay-Z's Roc Nation Management. The McComb, Miss.-bred singer's relationship with Roc Nation supposedly dissolved because of "creative differences."
A rep for Roc Nation did confirm the split to BV Buzz.

"Roc Nation no longer reps Brandy," the publicist Jana Fleishman said in an e-mail yesterday.

A source tells me that Brandy's business relationship with Roc Nation "is what kept Epic Records from dropping her months ago." Since the singer is no longer repped by the firm, the label "didn't see the benefit in giving her another album."

"She was signed to Epic when Charlie Walk was president of the label. Now that Amanda Ghost is president, she is the one who decided to let Brandy go," the source explained.

Coincidentally, Roc Nation had also represented Ghost, who in addition to being president of Epic Records is a Grammy-nominated songwriter who has written for Beyoncé, Jordin Sparks and Shakira.

Brandy's last CD 'Human' was her first release in more than four years and her debut album for Epic Records. Prior to signing with Epic, the singer had recorded exclusively for Atlantic Records, where she released four CDs before parting ways with that label in 2005. A rep for Brandy denied that the singer has been dropped from the label.

"They have not dropped her. We are trying to get a release from them. We're in waiting," her rep told me, before adding: "And Brandy and Roc Nation parted amicably."

BV Buzz's call to Ghost's office was forwarded to Elisa Goldman in the publicity department. That call has gone unreturned.

A message was left for Creed as well, though he has yet to respond.
Be the first to receive breaking news alerts and more stories like this by subscribing to our mailing list.