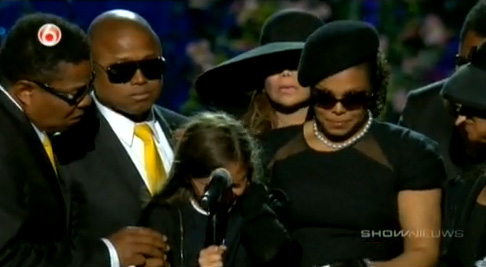 Perhaps the most touching moment of Michael Jackson's public memorial at the Staples Center in Los Angeles was when his 11-year-old daughter, Paris Michael Katherine Jackson, made her impromptu speech about her dad:
"Ever since I was born, Daddy has been the best father you could ever imagine. I just want to say I love him so much."
She then broke down in tears and was immediately consoled by her aunt Janet, who was standing right beside her the entire time. A very sad and touching moment indeed. Continue reading for that video and videos of all of the people (Brooke Shields, Queen Latifah, his brother Marlon Jackson and more) who went up to say what Michael Jackson meant to them and to the world.
MJ's Daughter Paris Michael Katherine Jackson
Brooke Shields
Queen Latifah
Kobe Bryant & Earvin "Magic" Johnson
Barry Gordy
Martin Luther King III and Bernice King
MJ's Brothers Jermaine & Marlon Jackson
Smokey Robinson
Congresswoman Sheila Jackson-Lee
Be the first to receive breaking news alerts and more stories like this by subscribing to our mailing list.