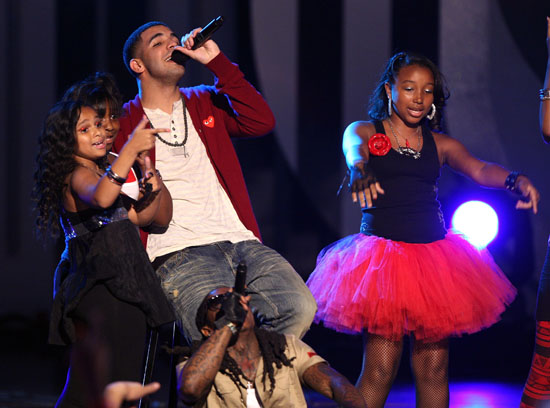 Drake and BET have publicly apologized in response to the outrage thrown at them for Young Money's performance at Sunday night's (Jun 28) BET Awards. As Drake, Young Money and Lil Wayne performed their songs, which all have several sexual innuendos, young girls were brought up on stage, including Wayne's 9-year-old daughter Reginae.
According to reports, the reason why Reginae and her friends were brought on stage was because she didn't get to go up with Wayne to accept his award earlier in the show due to her being seated too far in the back. And before Weezy took the stage to perform with Drake, she cried backstage begging her dad to let her go on stage.
In their statements, both Drake and BET insist that the girls being brought on stage were impromptu and both parties agree that it shouldn't have happened:
"BET Networks deeply regrets the performance by Young Money at the BET AWARDS '09 (featuring Lil Wayne, Drake, Gudda Gudda and Mack Maine)," a BET representative told AllHipHop.com exclusively. "Elements of the performance were unplanned and should not have happened."
Drake also agrees that the performance was done in poor taste, saying that it was a "terrible idea."
"That…was a terrible idea that I'll never do to myself again. But I was being pressed from different areas to perform, and I think what really happened at the BET Awards is with the passing of Mike, the climate really changed, as far as the award show goes," he told Complex. "I don't think it called for us to perform "Every Girl" and "Always Strapped," and I think it was an award show filled with tributes and music and these genuine heartfelt speeches. And to sort of climax out of a very tongue-n-cheek point, and then people misconstruing Wayne's daughters and her friends coming out on stage — it was just timed very poorly and it definitely wasn't planned like that, but with that being said, it is what is. I believe in Wayne and myself and it's nothing we can't bounce back from. To anyone who was offended, my personal apologies, it wasn't intended to offend anybody."
SOURCE: AHH
Be the first to receive breaking news alerts and more stories like this by subscribing to our mailing list.