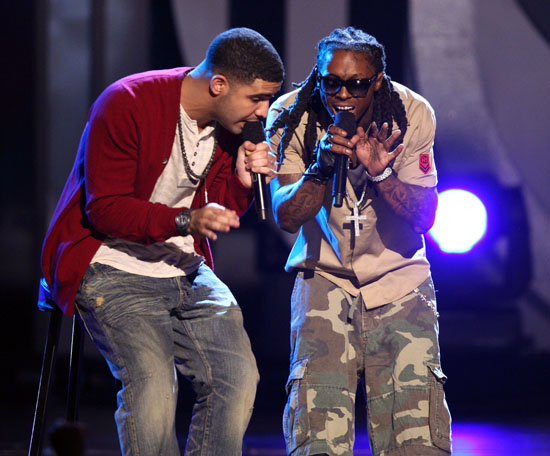 The wait is over. After months of speculation, Canadian rapper Drake has officially signed to Lil' Wayne's independent label Young Money. According to MTV, his signing is between Young Money and Cash Money Records and his debut album Thank Me Later will be distributed by Universal Republic.
"Today is a definitely a comfortable day for me, having my team now that's been in place for a couple of years. It's just a great day," Drake told MTV News recently in New York. "It's something new, but it feels familiar."
Drizzy is excited about having a corporate push to help with the momentum he's gained independently.

"Independent is a funny term. I can go independent, but you need distribution, period. You need somebody to distribute your record and you need that army that a label has to really push the record," Drake said.

So Far Gone became this year's most talked-about mixtape because, in effect, Drake combines the best of both worlds by being a strong singer and rapper. His singing talent is prominent on the tracks "HoustonAtlantaVegas," "Little Bit" and "A Night Off"; his rapping on songs like "Uptown" and "Ignorant Sh–" is as sharp as a broken bottle in a barroom brawl. He rhymes are just as strong: "The game needs change and I'm the muthaf—-n' cashier" (from "Successful"); "Account's in the minus, yet I'm rolling round the f—ing city like your highness" ("Say What's Real").

His popularity has gotten so strong that Drake performed — along with Weezy and the Young Money crew — in a prime slot at the BET Awards on Sunday night.

Drake's official debut LP, Thank Me Later, is currently in production and due later this year, with Kanye West, Lil Wayne and Jay-Z listed as possible collaborators. This summer, look for Drake on tour with Lil Wayne, Young Jeezy and Soulja Boy Tell'em as part of the Young Money Presents: America's Most Wanted Music Festival.

SOURCE: MTV
Be the first to receive breaking news alerts and more stories like this by subscribing to our mailing list.