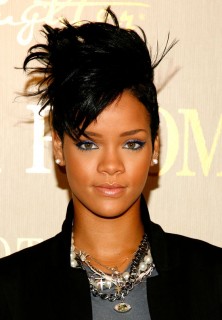 Rihanna already has to testify against her ex-boyfriend Chris Brown Monday in court, but if a university professor gets his way, she just might have to make another court appearance pretty soon. The pop singer is currently renting a Los Angeles home owned by Stephen Yacobian, and UCLA design and media art professor Christian Moeller lives next door to the home. Apparently, Moeller gave Yacobian an easement, which gives Yacobian the right to drive cars on a portion of Moeller's property.
Apparently the property was renovated two years ago and the easement wasn't really being used and now Moeller claims that Rihanna lets cars drive on his lawn to get to her driveway. And according to the suit, which was filed in LA Tuesday, sometimes the cars just sit there (unmoved) on the lawn. So to make a long story short, Moeller wants the easement eliminated and he wants Rihanna to pay up for allowing her guests and their cars to trespass on his property.
Meanwhile, her neighbors are defending her against the suit, saying that she's a good neighbor and that she's hardly ever home. Another resident says she's way more quiet than the squatters who used to live there.
"Several years ago it had squatters living there and it became a real party house with people coming from all over Los Angeles," the person said. "But after they were kicked out it became really quiet again and Rihanna hasn't caused any real problems. There have been a few parties there in the past month but nothing really so bad that people would file a lawsuit."
SOURCES: TMZ / RADAR
Be the first to receive breaking news alerts and more stories like this by subscribing to our mailing list.