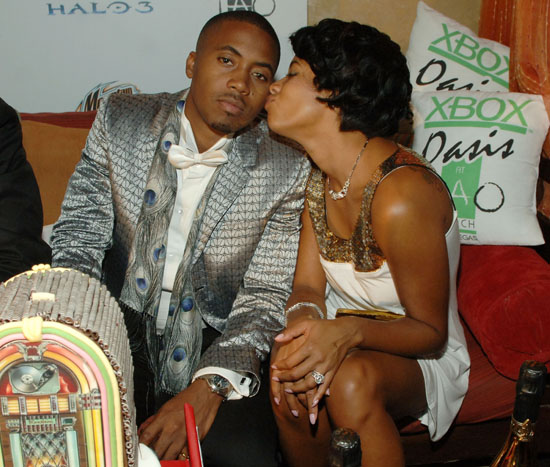 Singer Kelis is out of money and according to a new report from TMZ, she doesn't even have a pot to piss in. And she has a baby on the way. She recently filed legal papers claiming that despite her future ex-husband Nas being "filthy rich," he refuses to financially support her and isn't paying her pre-natal expenses. So to alleviate this problem, the "Milkshake" singer is asking the judge over the case to order the New York City bred rapper to pay spousal support, child support, all expenses related to the pregnancy and one-half of all medical expenses after the child is brought into the world.
But that's not all. In addition to everything mentioned above, she also wants $3,500 for a baby nurse and $20,000 in cold hard cash for strollers, cribs and other baby supplies. Why? Because according to Kelis, she's entitled to maintain the lavish lifestyle she's grown accustomed to during their nearly 6 year marriage.
"My survival is based on [Nas'] will at this time. If he does not want to pay for an expense, it does not get paid," she said.
But instead of pawning her $190,000 princess-cut diamond tennis bracelet … or her engagement ring (which is approximately a 9 karat cushion-cut diamond solitaire) … or even her expensive collection of Cartier, Rolex, Frank Muller and Chopard watches, she wants Nasir to dig deep into his pockets and pay up.
She's way to used to their five homes, first class flights, fancy restaurants and so on and so forth to just give it all up due to a divorce. And her lawyer, Laura Wasser, agrees saying in a separate declaration that she's asked Nas to fork over some cash for Kelis and the unborn baby (due later this month) but he hasn't responded.
Craziness…
SOURCE: TMZ
Be the first to receive breaking news alerts and more stories like this by subscribing to our mailing list.