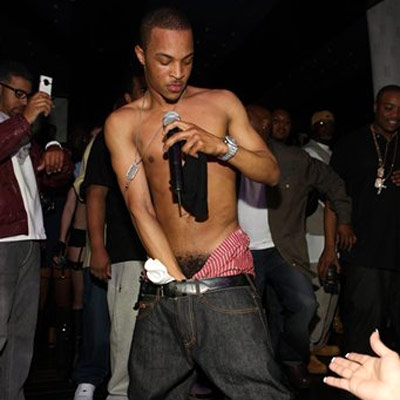 The big wigs over at PETA apparently want rapper T.I. to pose nude in their famous "I'd Rather Go Naked Than Wear Fur" campaign. PETA Executive VP Tracy Reimain says, "We're asking T.I. to use his fame and his experiences to bare the truth about the fur industry by baring his skin."
The Atlanta based rapper is currently serving a 366 day prison term on illegal weapons charges and Michelle Cho, the leader of the famous animal rights organization, wrote a letter to T.I. on behalf of the organization, asking that he publicly show his support by baring his skin when he's released from prison. Continue reading to peep the letter they sent to Tip.
"We read that you looked to Martha Stewart for advice on how to pass your prison time and come out on top. Did you know that she agreed to narrate an anti-fur public service announcement for PETA because she experienced firsthand what it is like for the millions of minks, rabbits, and other animals who are confined to filthy sheds on fur farms?

"But unlike inmates, who are freed when they finish their sentences, these animals are beaten, have their necks broken, are electrocuted, and are often skinned alive for their fur. We hope that you'll follow Martha's compassionate example and become involved with our anti-fur efforts."
We know what you're thinking … "are they serious?!" Hell yes! Dead serious. But we highly doubt T.I. will go that far though. Those PETA people are nuts…
Be the first to receive breaking news alerts and more stories like this by subscribing to our mailing list.