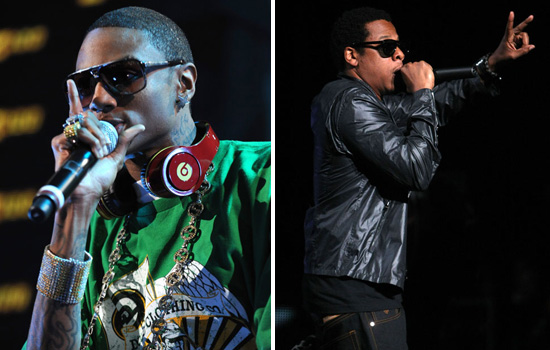 Though Soulja Boy has always respected Jay-Z, he recently told MTV that he didn't always like his music, mainly because he was young and just didn't understand what he was talking about. In response to his fans saying a Jay-Z collab wouldn't work because "he's lame," Soulja Boy says that reason is definitely not the case. Now that he's older and grown up, he's a fan and would like to work with him in the future.
"Jay-Z, I always respected him. Always. But I didn't always like his music. I guess because I was too young, and I couldn't understand what he was saying. … I got signed when I was 16 years old. Before I got signed, I heard the song, and I was like, 'That's Jay-Z.'
My favorite song from him was 'Dirt Off Your Shoulder.' I guess I liked the beat or the way he was flowing on there. Any other song I used to hear, I ain't really vibe with it like that. I used to listen to a lot of Down South artists like Three 6 Mafia or Gucci Mane. But recently, since I'm older now and I grew up, I like Jay-Z now. I'm a fan of his music. At first, I used to just respect him because he was Jay-Z; now I'm a fan of his music and I wanna work with him. In the car ride over here, we was listening to 'Brooklyn Go Hard,' He said, 'I'm Jackie Robinson — I jack, I rob, I sin.' I didn't know he was snapping like that. Back then, I couldn't understand none of what he was saying."

SOURCE
Be the first to receive breaking news alerts and more stories like this by subscribing to our mailing list.