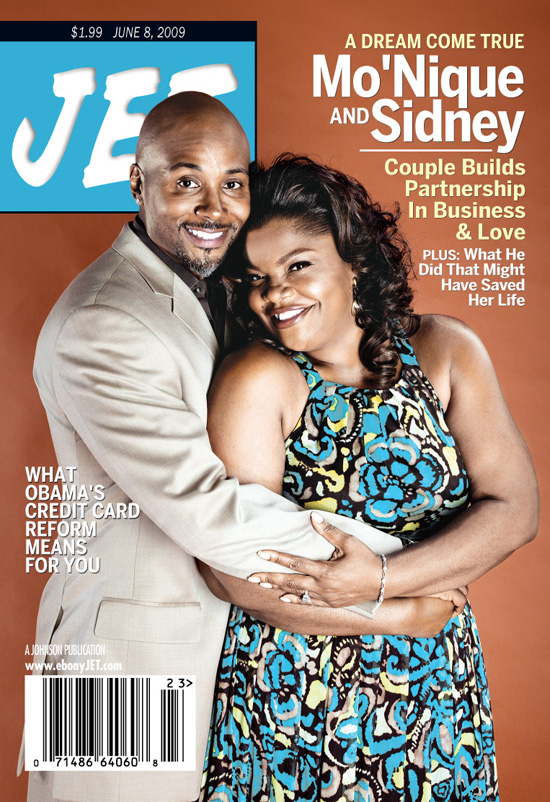 Mo'Nique and her husband Sidney Hicks are featured on the cover of the June 8th 2009 issue of JET Magazine. The issue talks about her recent weight loss, her personal & professional relationship with her husband, and how her upcoming late-night BET talk show, The Mo'Nique Show came about.
Actress and comedian Mo'Nique has taken her career to the next level, and it's no secret that her husband, Sidney Hicks, is right by her side making things happen. In fact, he recently made one of her dreams come true by helping her negotiate a deal for her own late-night BET talk show, The Mo'Nique Show. "We've been working together now for four years," said Hicks.
"I've had the pleasure of being the guy who she entrusted to write her lines, from the monologue to the jokes, for the last BET Awards. We collectively go over the comedy and produced (the comedy DVD) I Coulda Been Your Cellmate. It's been a slow crescendo quietly. We have a joke. I set the pins up. I let her knock them down."

Known for her vivacious persona and voluptuous body, the 5-foot-6 Mo'Nique admitted to tipping the scale at 262 pounds. Now, nearly 40 pounds lighter at 224, she dismisses rumors about having gastric bypass surgery. "I'm scared of needles. Baby, for them to take blood from me, it's a production," she said. (p. 36)
Be the first to receive breaking news alerts and more stories like this by subscribing to our mailing list.