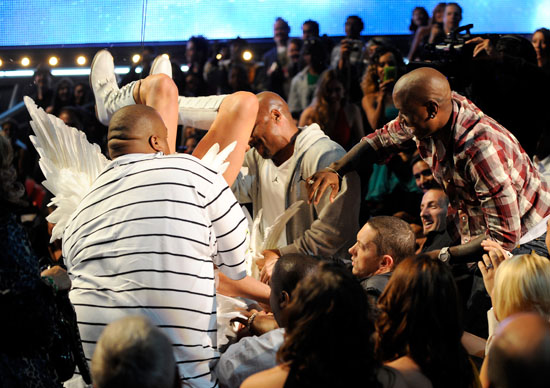 The debate has been settled! If you cared enough to wonder whether or not that crazy … "incident" that happened between rapper Eminem and Bruno (played by comedian Sacha Baron Cohen) really happened the way it happened or if it was a staged stunt simply for ratings, then we're here to let you know that YES, it was staged! Scott Aukerman, head writer for the '09 MTV Movie Awards, wrote about it on his blog (the post has been removed now) confirming that the incident was indeed staged AND rehearsed in advance!
In this day and age of staged publicity stunts, we had our eyes cocked in a nice "side-eye" position anyway, seeing as MTV has been known to do things like that. Besides, who would risk waiting to see what Eminem would do in a situation like that had it been completely real? If you still have yet to see what happened and have no idea what we're talking about, click here. We're just glad the debate has been cleared up and now everyone can rest easy knowing that Eminem and his beefy entourage were just acting and were in on it the whole time. You're going to have to wake up pretty early in the morning to fool us, MTV!
SOURCE
Be the first to receive breaking news alerts and more stories like this by subscribing to our mailing list.