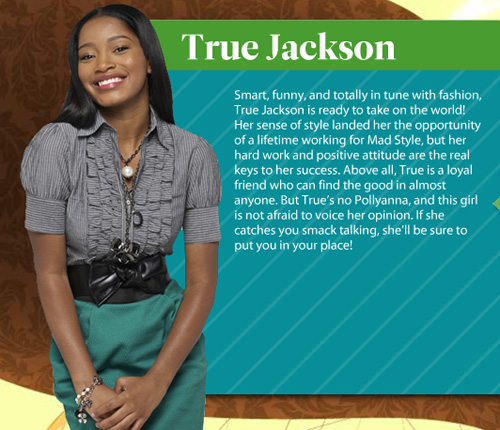 It was announced a couple of weeks ago that Nickelodeon had ordered a second season of the hit live-action comedy series "True Jackson, VP," which currently ranks as the number two show for kids and tweens on Saturday night. Nickelodeon's Executive Vice President Marjorie Cohn announced the news about the series, which stars multi-talented actress Keke Palmer as 15-year old True Jackson. True Jackson is the vice president of the youth division of a major fashion label.
"Keke Palmer is an extraordinarily talented actress who is both relatable and aspirational to her viewers," said Cohn. "Her star quality, coupled with a dynamic cast and funny, compelling storytelling, has been a winning combination. We are thrilled to be bringing this successful series back for a second season."
During its premiere, True Jackson, VP bowed with the network's largest audience ever of kids 6-11, tweens and total viewers for a live-action series debut. Since then, the series has consistently ranked number two on Saturday nights with kids and tweens on all of broadcast and basic cable.* True Jackson, VP also ranks among the top five live-action programs on basic cable with kids and tweens. Premiere episodes from the first season of True Jackson, VP will continue airing this year and will feature special appearances by Nickelodeon stars Jennette McCurdy (iCarly) and Victoria Justice (Spectacular! and Zoey 101).

True Jackson, VP – which airs regularly on Saturdays at 8:30 p.m. (ET/PT) – follows True as she navigates work life, social life and love life adventures around the Mad Style offices with her best friends Lulu (Ashley Argota) and Ryan (Matt Shively). True navigates her very first job, battles real-world obstacles like competitive co-workers and corporate politics and builds new friendships, romantic interests – as well as her niche as a fashion maven. Danielle Bisutti, Greg Proops (Whose Line is it Anyway?) and Ron Butler round out the cast. An accomplished singer, Palmer also co-wrote and sings the series' theme song. Andy Gordon (NewsRadio, Just Shoot Me!, Mad About You) is Creator and Executive Producer of the series. Dan Kopelman (Malcolm in the Middle) also serves as Executive Producer.

A hit on and off-the-television screen, the True Jackson, VP web page on Nick.com has received over 1.7 million visits and 3.6 million page views since its launch in October. The True Jackson, VP games on Nick.com have brought in more than 4.1 million game sessions on Nick.com since its launch, while the "Fashionista Fix" game has garnered over 1.7 million game sessions since it went live in November. The critically-acclaimed Palmer also recently won a second NAACP Image Award, for Outstanding Performance in a Youth/Children's Program for her role as True. Additionally, True Jackson, VP was nominated for the 2009 NAACP Image Award for Outstanding Children's Program and is the recipient of a 2009 Gracie Award for Outstanding Adolescent Program as well as a 2009 Parents' Choice Award.

Fifteen-year-old Palmer has already established herself as one of the fastest rising young stars of her generation, with credits that span film, television, and music. Palmer's breakthrough performance was starring as the title character in the Lionsgate Films/Starbucks Entertainment sleeper hit Akeelah and the Bee, opposite actor Laurence Fishburne and Angela Bassett. Her performance garnered a NAACP Image Award for Outstanding Lead Actress in a Motion Picture. Palmer also received a SAG nomination in the Best Leading Actress category for her role in the

Emmy-nominated made for TV movie, The Wool Cap, opposite William H. Macy in 2004, marking her as the youngest actor to ever be nominated by the Guild in a Lead Actor Category. In 2007, she also released her debut pop/R&B album So Uncool on Atlantic Records. Palmer was most recently seen starring opposite Ice Cube in the Weinstein Co. feature, The Longshots based on the true story of a female quarterback that makes Pop Warner history. Palmer also recently wrapped production on Shrink for Lionsgate starring opposite Kevin Spacey and Robin Williams.

Award-winning comedy veteran Andy Gordon has written and produced such shows as Back to You (CBS), Just Shoot Me (NBC), News Radio (NBC), Get a Life (Fox), The Jeff Foxworthy Show (ABC), Dream On (HBO) and Mad About You (NBC), for which he received a Golden Globe and a Peabody Award. With former writing partner Eileen Conn, he co-created the NBC comedy DAG, starring David Alan Grier, and co-wrote the play Arrivals & Departures, which premiered at the Aspen Comedy Festival. Gordon has also done punch-up on dozens of movies, including Curious George, Ant Bully, Alvin and the Chipmunks, Walter the Farting Dog, Space Chimps, and Meet Dave. Most recently, Gordon co-wrote the cheerleader comedy Fired Up, which hit theaters in March of 2009.

SOURCE: PR NEWSWIRE
Be the first to receive breaking news alerts and more stories like this by subscribing to our mailing list.