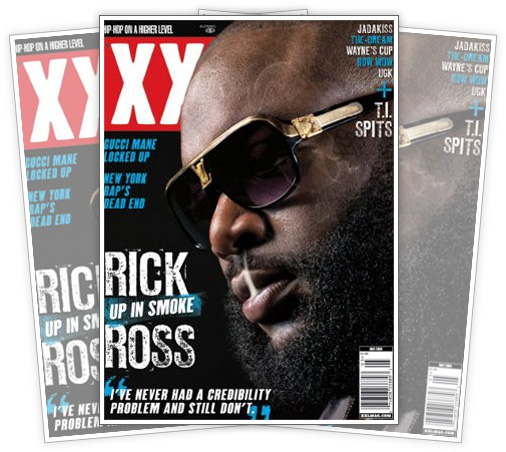 Rick Ross wants you to know that his sunglasses are not … and we repeat … NOT fakes! According to Ross, the sunglasses he rocked on the cover of the May 2009 issue of XXL Magazine are authentic and were customized by Jacob Bernstein, AKA "The Sunglasses Pimp." Bernstein compared tricking his clients' shades out to tricking a car out and customizing it, telling All Hip Hop that "just because the product has been customized by me doesn't take away from the fact that the frames are authentic Louis Vuitton Millionaires."

Ricky appears on the cover of the May 2009 issue of XXL Magazine wearing, what appears to be, a pair of Louis Vuitton-like frames. Controversy erupted Monday (May 11), when a representative for Louis Vuitton issued a statement disassociating the company with XXL Magazine and Rick Ross over the glasses, claiming Ross' glasses were "counterfeit" and that they didn't grant Ross, XXL or even Jacob Bernstein the permission to use their trademarks.
What a load of bullsh*t!
Bernstein aka "The Sunglasses Pimp," as his clients call him, is pretty well known in the world of fashion. His Los Angeles-based business, Jack's Eyewear, has worked with a number of actors and entertainers, including Jay-Z, Kanye West, Beyonce, Usher, Mary J. Blige and others.
Be the first to receive breaking news alerts and more stories like this by subscribing to our mailing list.