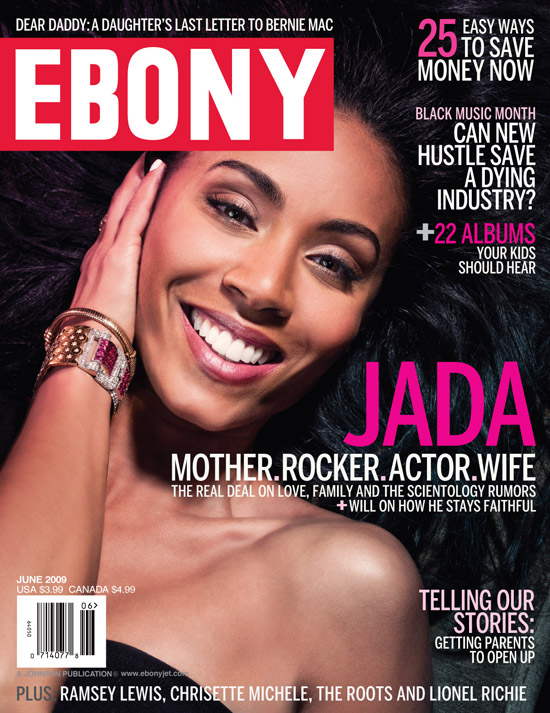 Will Smith's gorgeous wife Jada Pinkett Smith is featured on the June 2009 cover of Ebony Magazine, which hit stands today! In the issue she talks about her marriage, her views on the Church of Scientology and even those crazy Internet rumors we all love to read about.
"You want people to talk about you, because once they stop talking about you that's when you're really in trouble!" She continues, "I'm happy to have people talk about all the craziness they want to talk about, whether it's things like every year we're getting divorced or we're an open family or Will's gay, or I'm gay." (p.72)
Continue reading to peep what else this issue covers.
Dear Daddy: Bernie Mac's Daughter Writes Last Letter
Bernie Mac will always be remembered as the funny man with the big voice and the ability to make you laugh until you cried. He died last August at age 50. His beloved daughter and sidekick JéNeice McCullough, now 31, a budding TV writer and a mother herself, gives us a view of what it was like living with her dad. (p. 58)
Black Music Month: "Is Music Dead or About to Blow Up?"
In honor of Black Music Month, Ebony magazine goes behind the scenes in the music industry to discover how greed, recession and an industry in meltdown may lead to a rebirth for Black music. (p. 64)
Your Career Column: Snag Your Next Gig By Staying Connected
Networking is more than just asking somebody how to make money or could they recommend you for a position. It's also about helping the person with whom you exchanged business cards. With little effort, get a new job simply by keeping in touch. (p. 32)
Be the first to receive breaking news alerts and more stories like this by subscribing to our mailing list.