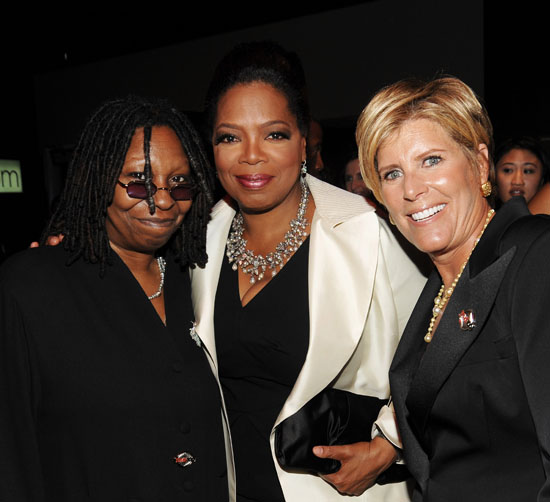 Actress Whoopi Goldberg (who also speaks on The View's panel), Media mogul Oprah Winfrey and Financial advisor Suze Orman attended and posed for a pic together at the 2009 Time 100 Most Influential People in the World Gala, which was held Tuesday night at the Frederick P. Rose Hall at Jazz at Lincoln Center in New York City.
The annual gala saluted the best and the brightest people in the categories of leaders & revolutionaries, heroes & pioneers, scientists & thinkers, artists & entertainers and builders & titans. Other honorees and attendees of the gala included John Legend, Michelle Obama, M.I.A. and more. Continue reading for more photos from the gala and to peep the complete 2009 Time 100 list!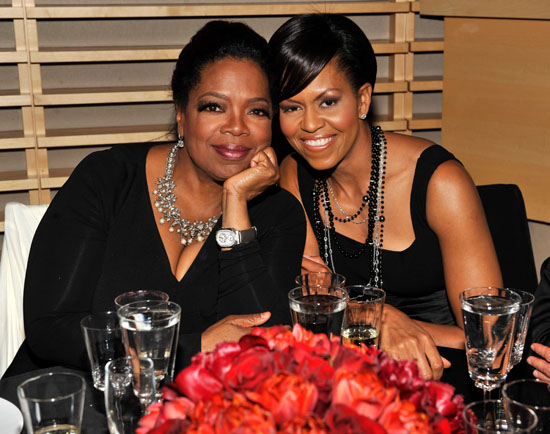 PHOTOS: GETTY IMAGES // WIRE IMAGE
The Complete 2009 TIME 100 Most Influential People in the World
Leaders & Revolutionaries
Edward Kennedy
Gordon Brown
Christine Lagarde
Thomas Dart
Avigdor Lieberman
Joaquín Guzmán
Nouri al-Maliki
Hillary Clinton
Susilo Bambang Yudhoyono
Boris Johnson
Norah al-Faiz
Elizabeth Warren
Paul Kagame
Nicolas Sarkozy
Angela Merkel
Wang Qishan
Xi Jinping
David McKiernan
Ashfaq Kayani
Barack Obama
Builders & Titans
The Twitter Guys
T. Boone Pickens
Ted Turner
Tessa Ross
Carlos Slim
Brad Pitt
Meredith Whitney
Suze Orman
Lauren Zalaznick
Timothy Geithner
Nandan Nilekani
Stella McCartney
Jamie Dimon
Sheila Bair
moot
Alexander Medvedev
Alan Mulally
Robin Chase
Jack Ma
Bernie Madoff
Artists & Entertainers
Rush Limbaugh
M.I.A.
Sam and Dan Houser
Kate Winslet
Werner Herzog
William Kentridge
Penélope Cruz
Lang Lang
John Legend
Elizabeth Diller and Ricardo Scofidio
Gustavo Dudamel
Jeff Kinney
Tavis Smiley
The View
Zac Efron
Tina Fey
Tom Hanks
Jay Leno
A.R. Rahman
Judith Jamison
Heroes & Icons
Michelle Obama
Chesley B. Sullenberger
Richard Phillips
Seth Berkley
Michael Eavis
Leonard Abess
Hadizatou Mani
Rick Warren
Van Jones
Somaly Mam
Rafael Nadal
Suraya Pakzad
Jeff Bezos
Tiger Woods
George Clooney
Brady Gustafson
Sister Mary Scullion
Oprah Winfrey
Sarah Palin
Manny Pacquiao
Scientists & Thinkers
Nouriel Roubini
Amory Lovins
Jon Favreau
Dambisa Moyo
Dan Barber
Yoichiro Nambu
Roland Fryer
Martin Lindstrom
Barbara Hogan
David Sheff
Steven Chu
Paul Krugman
Connie Hedegaard
Daniel Nocera
Stephan Schuster and Webb Miller
Nicholas Christakis
Doug Melton
Paul Ekman
Shai Agassi
Nate Silver
Be the first to receive breaking news alerts and more stories like this by subscribing to our mailing list.