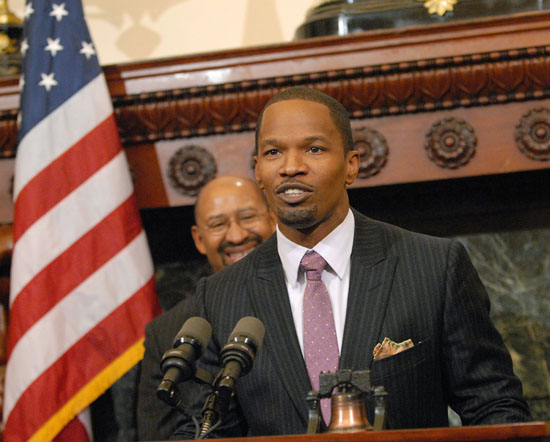 Damn, our boy Jamie can't catch a break can he? A Los Angeles bartender who goes by the name of William Pressler filed papers in an LA court today suing Jamie Foxx, along with his production company Foxxhole, liquor line Belvedere Vodka and nightclub Social Hollywood for injuries he sustained while working a party for the "Blame it on the Alcohol" singer.
Pressler was hired in April 2007 to serve at an after-party following a Jamie Foxx show in Los Angeles for the singer's "Unpredictable Tour." Belvedere sponsored the event and provided a fully-scultupred ice bar, which Pressler claims was unsecured and unsafe.
After several hours of pouring liquor and most likely taking hard shots to the head, the drunk people at the party left a lot of broken glass on the floor and some of it ended up near the ice bar by Social Hollywood management, and they never cleaned up.
Later, Pressler claims he slipped and fell due to the unsecure bar and cut his hand pretty bad. He said he has an undergraduate degree in Neuroscience and had plans on becoming a brain surgeon but due to the severe injuries he suffered in his hand, he'll have to let that career go.
So now he's suing for gross negligence, false promise and intentional and negligent infliction of emotional distress, in addition to seeking unspecified damages. So in other words … home boy is about to get PAID!
SOURCE
Be the first to receive breaking news alerts and more stories like this by subscribing to our mailing list.