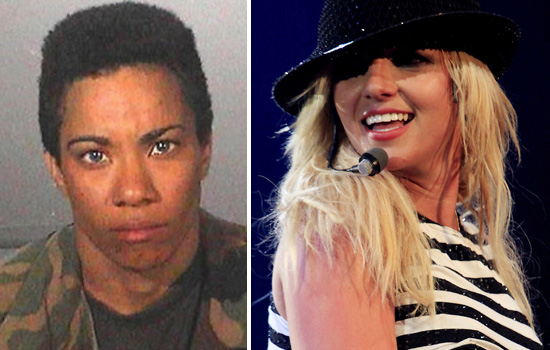 Last Thursday, California police arrested a 26-year-old crazy woman dressed in camouflage who called herself sneaking into pop superstar Britney Spears' gated Oaks community in Calabasas. After somehow gaining access to the exclusive community, she proceeded to host a peepshow of her own through the windows of the home of the pop singer, who wasn't there at the time but it was in the area for her "Circus" tour.
According to E! News, an LA County Sheriff's deputy arrested the crazy woman, named Miranda Tozier-Robbins, on suspicion of trespassing and disorderly conduct after security guards caught her looking through Britney's windows. At first glance, security thought she was a window washer, but after realizing that wasn't the case, one of the private guards asked her to leave the premises, and she refused. So they physically escorted her off the property and called the cops.
And get this! She reportedly auditioned for the popular Fox series American Idol back in October 2005 in Boston with Britney's "Everytime" song and made it to the second round. Obviously she didn't make it to stardom, but her mom says that was never the intention. "We told her she could sing…we would joke with her," Miranda's mom Barbara Tozier-Robbins said. "In school she did music, but not singing."
Barbara didn't even know her daughter had been to jail when the press contacted her for comment. Before confirming the American Idol bit, she exclaimed her shock upon hearing the news. "You are kidding," she said. "I knew she was a fan of [Britney]. I don't know why she would go there. She's never been in trouble before," Barbara added. "I guess she just wanted to see Britney."
After being arrested and booked, Miranda Tozier-Robbins was released from police custody after she agreed to appear at a June 16th hearing in Malibu court instead of serving time behind bars on $5,000 bail.
SOURCE
Be the first to receive breaking news alerts and more stories like this by subscribing to our mailing list.