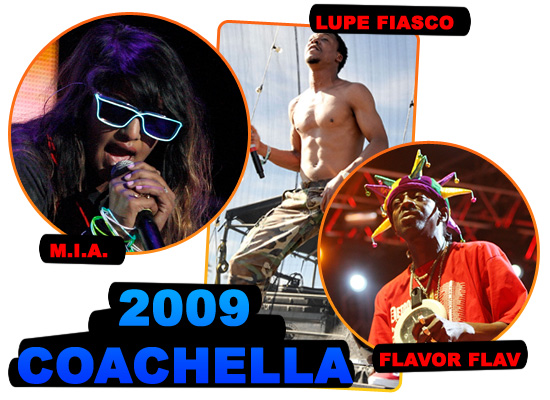 Flavor Flav, Lupe Fiasco and M.I.A. all took the stage this weekend at the 2009 Coachella Valley Music & Arts Festival, held at the Empire Polo Club in Indio, CA. M.I.A. performed live on stage Saturday night, during Day 2 of the festival and Lupe and Flav performed during Day 3 of the festival, which was Sunday.
What's up with your boy Flav though? How old is he? At one point do you take a look at yourself in the mirror and say "Dammit … I need to grow up!" Dude has gotta be pushing 50, no bullsh*t. Isn't the "wacky" persona a bit played out? He looks like a clown! Check out the entire gallery of photos when you continue reading.
Flavor Flav performed at Day 3 of the Coachella festival Sunday evening looking like a damn clown. Who does he think he is? A court jester? Dance, monkey! Dance!! LMAO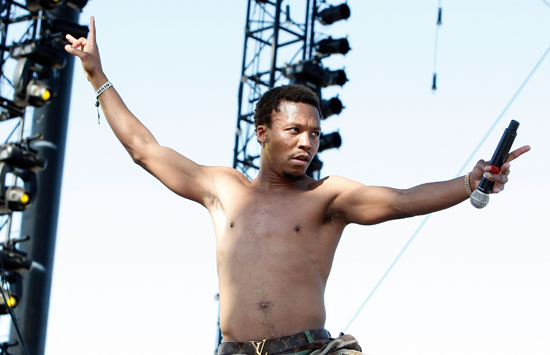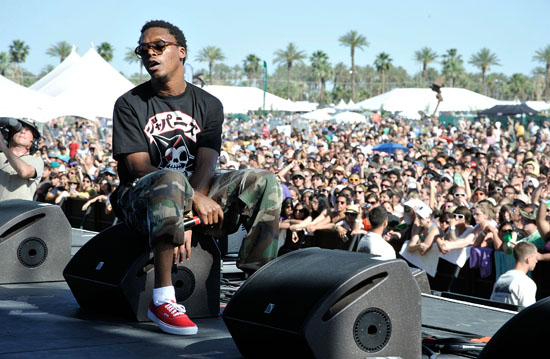 Lupe Fiasco couldn't take the Cali heat so he ripped his shirt off when he performed at Day 3 of the festival Sunday afternoon. We're sure most of the women there wanted him to put it back on but he didn't care. Hell, he didn't even care to comb through those naps. SMH… Click here for a review of his performance.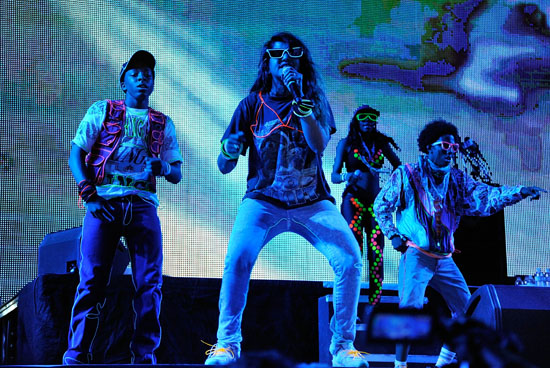 New mom M.I.A. performed Saturday night at Day 2 of the festival taking the main stage for the first time. But she didn't like it. After her hour-long set in the desert, she said "next time I'm back in the tent. I want to be in the sweat." Click here for a full review of her performance.
PHOTOS: GETTY IMAGES
Be the first to receive breaking news alerts and more stories like this by subscribing to our mailing list.