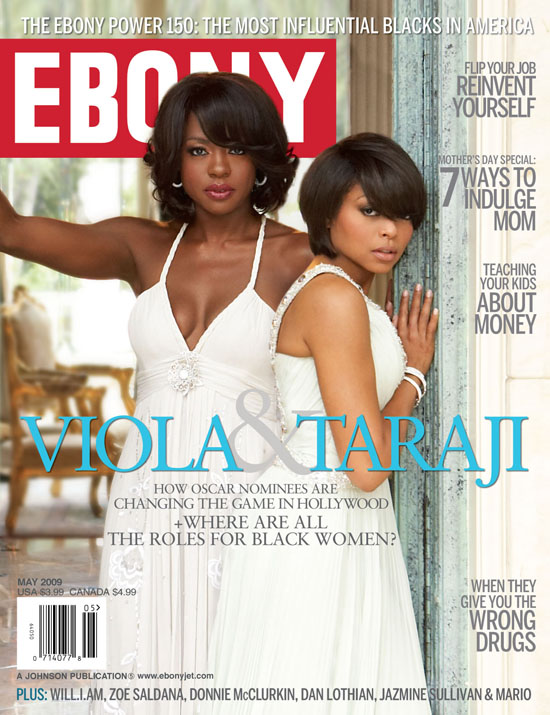 Oscar nominees Viola Davis and Taraji P. Henson are featured on the cover of the May 2009 issue of Ebony Magazine, on stands nationwide Thursday (Apr. 14th).
Academy Award-nominees Viola Davis and Taraji P. Henson have both proven that when you know your worth, no one can take it from you. At the 81st annual Oscar ceremony, the two found themselves waiting to win the same award for best supporting actress. While the audience applauded for winner Penelope Cruz, they both shared in a symbolic moment that still remains dear. "We looked right at each other, we connected," says Henson. "We had to have that moment, just for each other, to let each other know, 'You know what? It's still all good.'"
In an exclusive photo shoot for Ebony magazine's May issue, Davis and Henson candidly talk about the challenges that continue to face Black actresses in Hollywood. "Black directors really don't offer me movies," says Davis, who takes no offense to this. "Most of the work I do is really in predominantly White films. That's just how it works." (p. 80)
The May 2009 issue of Ebony Magazine also lists its annual list of "The Most Infulential Black Americans." This year's "Behind the Power" list turns the spotlight on the top Blacks in President Barack Obama's administration.
To see everything featured in the latest issue of Ebony Magazine, pick it up when it goes on sale this Thursday!
Be the first to receive breaking news alerts and more stories like this by subscribing to our mailing list.