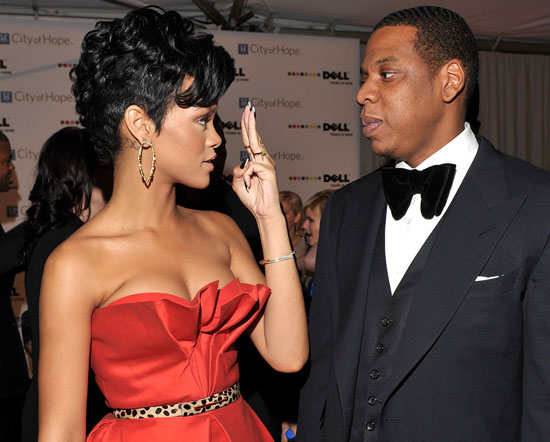 Some of the biggest names of the celebrity entertainment world, Jay-Z, Kanye West and Rihanna, have teamed up with Parlux and Jay-Z's Iconic Fragrances to launch a series of new celebrity fragrances, beginning in summer 2010 with the launch of Rihanna and Kanye's signature scents. Parlux's CEO Neil Katz confirmed the news to People.com, adding that a yet-to-be-announced "well-established female artist" will join the trio. And no … it's not Beyonce.
For his part, hip-hop mogul Jay-Z is looking forward to the to expanding his empire, saying in a statement, "We are excited for the opportunity to partner with Parlux and their management team in the launch of these dynamic new brands."

Parlux's CEO Neil Katz continues, "We are extremely excited to begin work on our projects with Rihanna and Kanye West. Each is an extremely highly regarded celebrity at the top of his or her profession who is undoubtedly going to make an indelible impression in the fragrance industry, just as each has done in the entertainment world." And it seems that the stars are just as confident about the impending success of the scents. In an unusual move, they will receive payment in royalties, profit sharing and Parlux stocks rather than cash. And while there's no word yet on who the mystery artist is, Parlux dismisses the idea that the star in question is Beyonce.
Be the first to receive breaking news alerts and more stories like this by subscribing to our mailing list.