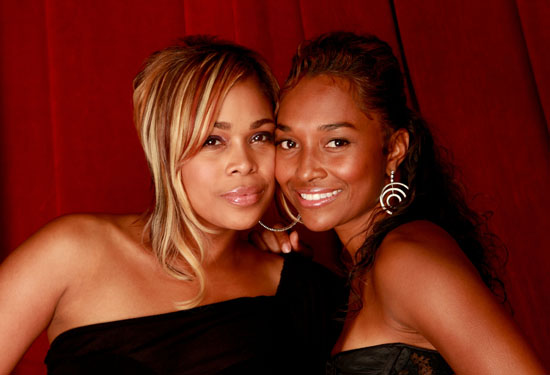 Tionne "T-Boz" Watkins, a former contestant on NBC's Celebrity Apprentice and the T in girl group TLC, recently sat down with our good friends over at AOL Blackvoices and was very open and kept everything really real. And when we say really real, we really mean really real. Read it again. It makes sense. The Atlanta native talked about an upcoming TLC movie that could possibly be in the making really soon, what she thought about her performance with Alicia Keys at the 2008 BET Awards, and how she feels about today's girl groups. She even had a few things to say about Beyonce's role in Destiny's Child!
When you hear stories about what's going on with Destiny's Child and Kelly Rowland having to fire Matthew Knowles to finally get attention, what are your thoughts?

They get mad when I say this, but I don't give a damn. It was all about Beyonce anyway. She was my favorite, too, but come on. Her parents are over everything. Who do you think they were going for? It's always Beyonce.
It was supposed to be exactly the way it is now, Bey is on top. I love Beyonce, and I am a fan of hers. She was my favorite in the group even before they were Destiny's Child and they were the Baby Dolls. She was so cute and pretty. I like all of them, and I wish Kelly the best. When you're in a girl group, you have differences, and you have to learn how to respectfully agree to disagree. There are a lot of things that happen behind the scenes that people don't know about. Some girl groups have girls trying to steal other girls' boyfriends and that's the ultimate no-no. You have situations like the Kelly thing and Beyonce's parents. You can say that I'm out for everybody, but if Lisa was to bring somebody in that's her boyfriend, then I'm gonna feel like you got Lisa's back more than mine, and that's gonna be a no-no. I just think that brings a conflict of interest in the beginning. That would have been a hard group for me to be in, because I would have been like your mommy and daddy are running things and they're gonna have you at heart the most. That's just how I feel.

I hear you and Chilli have been approached about a TLC movie. Monique Coleman from 'High School Musical' says it's her dream to play Lisa "Left Eye" Lopes in a film.

That's awesome to hear. I am interested now whereas I wasn't before. I actually do want to pursue making this movie. We're talking to companies now so right now it's just talk. People are actively pursuing it and that's a great thing.

What actress would you like to play you in the film?

It would have to be a girl who has a lot of cool personality like a prissy tomboy. She has to look good with blond hair, because she must swag out the blond. I love Kyla Pratt. She has a lot of personality and a lot of spunk. I think Meagan Good can do it, too. I like both of them. In 'ATL,' Lauren London played me and she did a great job. 'ATL' was about Dallas Austin and my experience growing up in the skating rink. The only difference was that we [were not in a relationship]. That was part of the movie. I executive produced it, and it was a part of my life. That was really my story.

What actress should play Chilli? I pick Keshia Knight Pulliam or Tatyana Ali or anyone else who can brush down their baby hair.

Those are two good picks. Keshia still has that valley girl in her and so does Tatyana, so they make great looks, but they have to get rid of the valley girl part, because Rozanda has no valley girl in her at all. You can buy the lace-front weave and anybody can have her hair. All you got to do is call up Tyra Banks and ask her where she gets her wigs from.

Alicia Keys got you and Chilli to reunite and perform on last year's BET Awards. How did it make you feel that a singer who wasn't even in a girl group professionally wanted to celebrate TLC, SWV and En Vogue like that?

I love Alicia and that was the only reason I did it. We've never said yes to perform with anybody, ever. She is one of those people that you respect and feel honored to be asked and that's why we said yes. I don't count the BET Awards as a real TLC performance. That was just a mess altogether. That was a terrible day for me. It wasn't a regular TLC show anyway. At a real TLC show, we run things and are energetic and dance. That was just a hot mess. I'm very excited to do what we do, and I'll be back in my element. That sure wasn't my element. I'm happy to be back, and we'll be doing it the way that we do it.

There are currently no girl groups in the music business. They all seem to break up. Why do you think it's like that?

I feel like girls are anal, bitchy and bitter. They're jealous, envious and compete with each other even though they say they don't. It always brings issues. They can't differentiate that this is business, and we don't have to be best friends. We just have to work together. People have a hard time living with that, because it becomes fake and you have to keep up this whole façade, and you just can't deal with it and break up. At the end of the day, it's about making money and T-Bozhaving a career. Nobody said you have to go home and hug every day. Some girls can't deal with that, and I've always had girl problems. Girls and me just don't mix. They've always been jealous, tried to take my boyfriends and lie on me. I get it because I've always had that happen to me. That's why I would never do a girl group again. I'm happy to have been with the two I was with, but I would never bring another girl in and start a new group. You don't have to worry about that with me.
Be the first to receive breaking news alerts and more stories like this by subscribing to our mailing list.