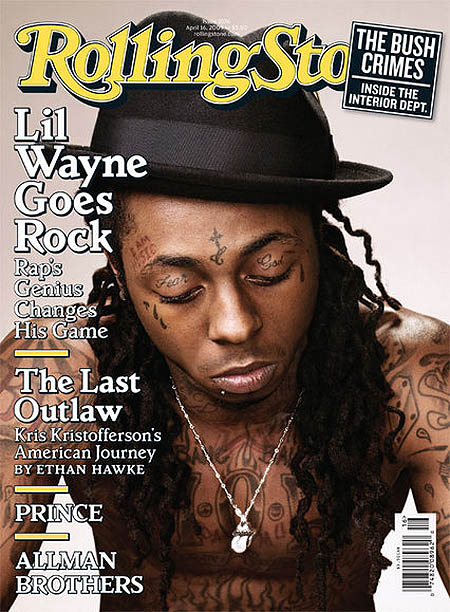 Rapper turned rocker Lil Wayne is featured on the cover of the latest issue of RollingStone Magazine, on stands now. In the issue, Wayne says the reason he's coming out with a rock album is because he got tired of rapping. He says he's basically grown in this "rock star" and he just had to play the part with this new album. Read below for a few snippets from the issue, courtesy of MTV News.
"Honestly? I don't want to be the best rapper in the world," Wayne told Rolling Stone in an upcoming cover story arriving on newsstands Friday. "If I have a rap album I'm dropping, then I want it to be the best rap album. But I want to be the best. Period. Now. My favorite rapper hasn't done what I'm doing."
In the profile, Wayne explains what led to his transition from rap to rock music. As his celebrity began to rise, he started to experience a life unlike anything he could rap about, he said. He described one particular night when he bedded multiple women and thought in the morning, "This is who I am now."

"The rock sh– just comes from what my life is now. I've grown into this person," Wayne told the magazine. "I woke up one morning and had three or four women in my bed where I not only didn't know their last names, I didn't know the beginning letter of their first names. All I know is, they're the most beautiful women in the world, and I was in my own place, in whatever city I as in. And I could have thrown a dart at the map, and I'd probably have a place there too. I knew my driver was waiting downstairs for me. When my nose finally cleared from all the weed I had smoked, I smelled food in the kitchen and I knew it was my chef. Then I look on my phone and see a message and know it's from a popular woman everyone knows. And when I went in the studio that night, I couldn't just rap, 'Yeah, n—a … .' "

So far, two of Wayne's rock tracks have surfaced: the single "Prom Queen" and a song that appeared online called "Hot Revolver." The guitar-heavy numbers have an emo feel and feature Wayne crooning through Auto-Tune. "Prom Queen" hasn't taken off on the Billboard charts like Wayne's previous rap hits, but the rapper doesn't seem too worried. Although he's venturing into a new sound, he said, the music isn't necessarily for all rock fans.

"I never said, 'Lil Wayne is going to rock, everybody.' I just got — I'm not going to say 'so good' at what I was doing, but it became such a regularity for me that I got tired of it," Wayne said. "And then I said, 'You know what? I'm not going to rap on this one.' I always knew I couldn't sing, but I also knew I had a voice that isn't heard by many and that I could learn how to stretch it and make songs sound good. Therefore, I practiced that."

Wayne also discusses his childhood, his theater background (he performed in high school plays) and his nightly recording process, which he said is like when you "jump outside of yourself."

"You look at yourself and say, 'You ain't the best,' " he explained. " 'Show me you're the best. Show me you can play the f—ing guitar without lessons. Show me you can make a hit song and make everybody tell you, "I love what you're doing." Show me you can do that.' And then I come out that door and jump back in my body. I do that every night."
Be the first to receive breaking news alerts and more stories like this by subscribing to our mailing list.