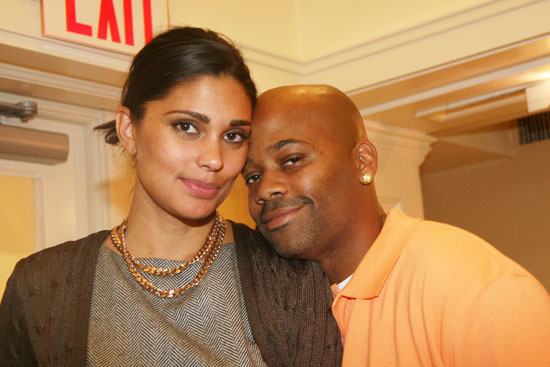 According to recent reports, Damon Dash's wife, Rachel Roy (a well-known fashion designer) has filed for divorce from the Roc-A-Fella empire's co-founder. An electronic record of the case obtained by the New York Daily News states the reason as "non-monetary relief" The papers were filed in Manhattan Supreme Court earlier this month.
Dash and Roy, who put her own name on a women's fashion line, got hitched in Mexico in January 2005. They met when Roy was working at Rocawear and have two daughters. The breakup is the latest legal mess for the has-been hip-hop titan, whose empire – which he once pegged at "about $50 million" in a New York magazine profile – has crumbled under massive debt, bad business deals and one suit after another. Dash, who in 2005 sold his stake in Rocawear to Jay-Z for $20 million, owes $2 million in state taxes, and a bank has started foreclosure proceedings on his two Tribeca condos.
A Manhattan judge even ordered the city to seize his luxury Chevrolet Tahoe SUV last year when he couldn't make the $714.99 monthly payment. He's also being sued by law firms and landlords for not paying his bills. The fall has been a spectacular one for Dash, who sipped Champagne on a yacht in Jay-Z's video for "Big Pimpin'" – then emptied his bottle of bubbly onto bikini-clad beauties in a hot tub.

"He's broke, he's got nothing left," a source said. Dash debuted last year as a theater producer with the "Hip-Hop Monologues," an Off-Broadway account of the life of his latest protégé, rapper Jim Jones. The production is set to resume performances tonight at 37 Arts in Manhattan. While he may have been short on cash, Dash wasn't short on confidence when he hyped the show in New York magazine and vowed to make a splashy return to the music business.

"And when I come back, I'm gonna change the economy as well," he said.
PHOTO: WENN
Be the first to receive breaking news alerts and more stories like this by subscribing to our mailing list.