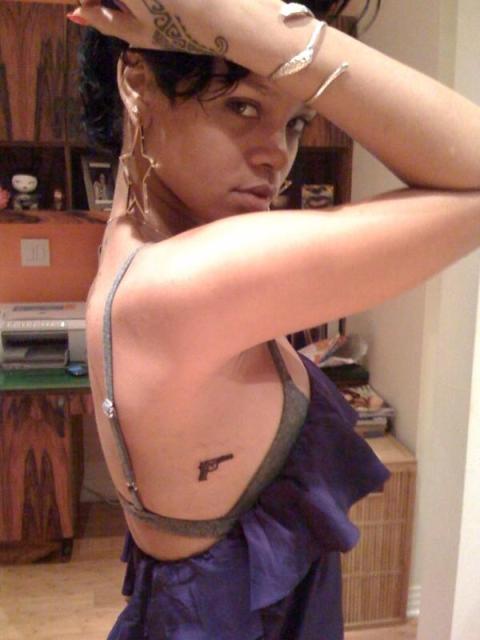 No, Rihanna hasn't gone and got herself a pair of "real" guns. If she did, we're pretty sure a certain someone would be somewhere peeing his pants right about now. In the midst of all of the drama, confusion and just outright chaos, Rihanna went and got some new ink. She reportedly flew in tattoo artist Bang Bang all the way out to L.A. to get a tattoo of two guns on each of her ribs. Bang Bang says she originally wanted them on her shoulders, but decided to put them in a location a tad bit more discreet.
"She loves the gun tattoo. She got the tattoo last Thursday, March 19," Bang Bang tells Life & Style.

"She flew me out to LA for the day because she was getting a tattoo for one of her friends as a birthday gift. She'd been toying with the idea for a while to get another tattoo. I've done other tattoos for her; I added stars to the ones she already had. So when I was done with her friend, we talked about what she wanted to get. She was doing research on what would look good, and I drew up a couple of things on the back of her arm, but they weren't the perfect one.
I'm a big advocate of guns. So I said, 'How about a gun?' I printed out a picture of a gun that I thought would look good, and she loved it. We were thinking of putting it on her finger next to her wrist, or on her shoulders. She loved that, but it took away from her face, and you know, she's a CoverGirl, so we couldn't do that! So we put it under her ribs and she loved it. It took about 15 minutes. She didn't complain while I did the tattoo. We also talked about her getting a skull and crossbones, but she didn't love it."

Asked why he thinks RiRi got the gun tattoo, given the assault charges against her boyfriend, Chris Brown, BangBang said, "If I had to say why she got it, it's because she kicks ass and everybody supports her! She can do whatever she wants. She's one of the nicest and sweetest people I know. She has a lot of really good friends supporting her. We didn't talk about why she specifically got it. She's a rock. She's just thinking about having a great time now."

SOURCE
So, GOT … we do like the new ink? Or is Rihanna taking this "Good Girl Gone Bad" thing too far, as usual? Peep where she ALMOST got those tats below!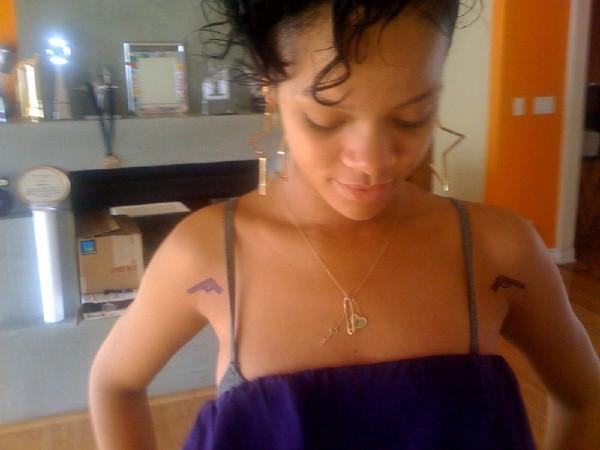 Be the first to receive breaking news alerts and more stories like this by subscribing to our mailing list.