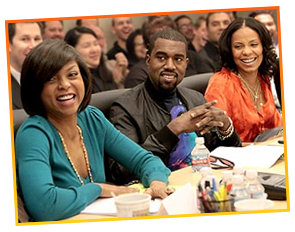 According to People, rapper Kanye West is planning to expand his professional resume and include "animiated series" into his portfolio. The Chicago native, along with actresses Sanaa Lathan and Taraji P. Henson will star in the new Family Guy spin-off series, "The Cleveland Show." Sanaa plays Cleveland's wife, Donna, and will be a regular on the show.
"It was surprising to us that [he] was so into it that he came to the table [read], and wonderfully surprising how cool he was, how funny he was and how unassuming he was," says executive producer Mike Henry, who voices Cleveland Brown and other characters on the show. "He's just a great presence." West then spent three hours in the studio Friday laying down his voice as not-so-mega-star rapper Kenny West.

"We knew Kanye was a big Family Guy fan because he invited [creator] Seth [MacFarlane] to his house a year or two ago," adds Henry. "And there was a mention on his blog when the spin-off was announced that he was excited about it. We knew he was a big fan and a lot of us are fans of his."
New to the art of voicing animation, West came early to meet the cast and the writers. Soaking up the table-read process, West, 31, got pointers from series regular Sanaa Lathan, who plays Cleveland Brown's wife Donna, and excelled at improvisation. According to executive producer Richard Appel, "Before we came to the table … there was only one line he didn't love and he came up with another idea and in a completely modest, nice way said, 'Would you mind if I changed just this one line?' And our feeling was, how many raps have we written? One? And how many has he written? Be our guest!"

And would the producers ever have Grammy-winning West back on the show? "We just recorded him in the booth and he was fantastic," says Appel. "Once he read it a couple times through, he just owned the character, which I guess isn't hard since he was named Kenny West. He said he'd be glad to [be back.]. I said we could write him in to the next 21 episodes!"

Also in the episode, which will air in 2010, is Oscar nominee Taraji P. Henson. The Cleveland Show is set to premiere on FOX in the fall of 2009.
Be the first to receive breaking news alerts and more stories like this by subscribing to our mailing list.