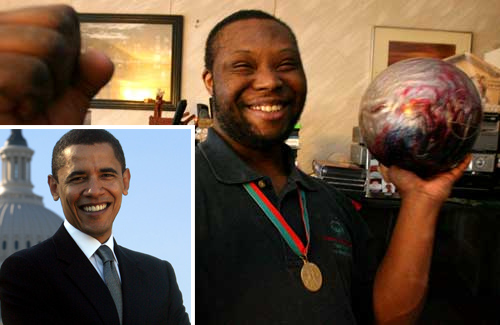 President Obama made a little joke last night when he made an appearance on The Tonight Show with Jay Leno. When he was talking to Jay about his bowling average, he made a comment comparing himself to a participant in the Special Olympics, and unsurprisingly, a lot of people made a big deal about it saying he was out of pocket for making such a comment, but not this one 21-year-old Special Olympian from Brentwood, CA:
Daniel Fletcher, 21, a Brentwood man who has bowled in the Special Olympics, has a message for President Obama: Get ready for some competition. Fletcher went online with his parents Friday afternoon to watch a recording of Obama jokingly likening his bowling style to that of competitors in the Special Olympics.

"I am willing to get a team to challenge him," Fletcher said. He thought of an alternative: "I'd challenge him myself."
Fletcher, who has Down syndrome, bowls three times a week, and recently scored 130 – a point higher than the score Obama mentioned on " The Tonight Show with Jay Leno." Fletcher, an Eagle Scout, has competed in basketball, golf, baseball, equestrian events and other sports in Special Olympics across the state. "He's a super athlete," said his father Warren, a teaching assistant at Brentwood High School. "Special Olympics athletes are champions," Daniel said.

Daniel's mother, Edna, a social worker, said Obama's gaffe was "really just a slip of the tongue," so they're not upset. "A little off key, but he really didn't mean anything negative," Warren said. No argument from Daniel, who cast his first presidential vote last year – for Obama.

SOURCE: NEWSDAY.COM
Be the first to receive breaking news alerts and more stories like this by subscribing to our mailing list.