Kim Kardashian and Reggie Bush are featured in the latest issue of GQ Magazine, which is on stand now. According to Kim herself, the article features an interview titled "The Saint and the Sinner" where the two talk about their relationship, how they met, the things they argue about, and more. The shoot was done at a mansion in LA. Continue reading for the rest of the hot photo spread and to peep the interview!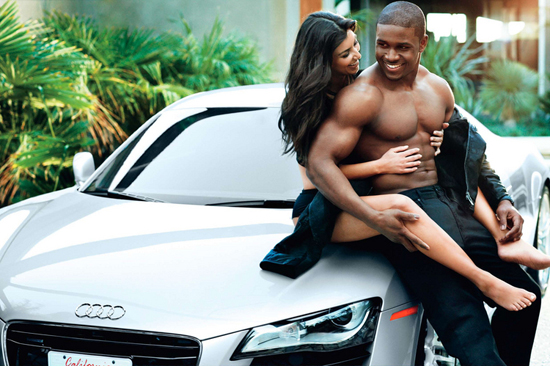 How'd you two meet?
Kim: Matt Leinart [quarterback for the Arizona Cardinals] was dating a friend of mine, Paris Hilton. I went to the ESPY Awards with my stepdad, and Matt was sitting with Reggie. The rest is history.

Reggie, had you been encouraging Leinart to introduce you two?
Reggie: No, I'd never seen Kim before the ESPY Awards. After that, I started inquiring.

I bet. Having a famous girlfriend is a good way to get heat from fans, though. Just ask Tony Romo.
Reggie: They want to put the blame on somebody, because it couldn't possibly be the team's fault. It has to be because we're in this Hollywood relationship. Which is absolute bullshit. I think, as a man, as a football athlete—that's how I make my money, that's what we train for all year—I could never stand for that. A loss has nothing to do with Kim, or Jessica Simpson. If we lose a game, it's because we didn't make enough plays.

Enough niceties—I gotta hear some pet peeves.
Kim: Oh, my God, Reggie is the slowest person anyone will ever encounter. I don't understand how he's so fast on the field. He's like a slug!

Reggie?
Reggie: She always feels rushed. It basically trickles down to her having an attitude. So we get into little arguments.
Kim: If he makes me late, it makes me have an attitude. This morning, on the way to the photo shoot, he wanted to drive together, but—
Reggie: Whoa, whoa, whoa! I did not want to drive together. I told you to go by yourself, and you wanted to wait for me. There were ants in the bathroom this morning, and I was like, "Babe, can you grab the Raid to spray these ants?" She was like, "I don't have time for that!"

That sounds normal enough, but here's what people can't fathom: Reggie was a star at USC, a campus crawling with the best-looking girls in America. Kim, you've been married before, and have a sex tape. How do you guys get over the past?
Reggie: We don't talk about it, and we don't think about it. With Kim, and with anybody in life, it's not my place to judge, no matter what they've done—good, bad, or indifferent. I was a friend to her when she needed one, and we ended up talking, and everything worked out.
Kim: At first we had our friends saying crazy things—all the reasons that we shouldn't date each other. We didn't listen.

By the way, how'd your first-ever joint photo shoot go?
Reggie: I already know I'm going to catch hell from my boys and my teammates. They love to talk trash and post up pictures in the locker room. But you gotta take these opportunities as they come, man, because when you're old and you don't got it anymore—
Kim: When you're not hot…
Reggie: …you're going to wish you did that.

SOURCE
Be the first to receive breaking news alerts and more stories like this by subscribing to our mailing list.