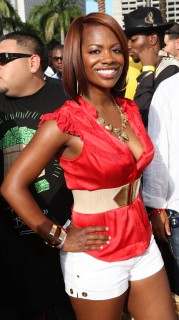 According to an exclusive report published by Entertainment Weekly, Kandi Burruss, of Xscape fame, will be Deshawn Snow's replacement on the hit Bravo series, "The Real Housewives of Atlanta."
Burruss is undeniably the most notable member from Xscape. Since the group parted ways in the late '90s, she had a somewhat successful solo singing career (her biggest hit: "Don't Think I'm Not") but has seen ever greater successes with songwriting. Along with Cottle (who's married to rap superstar T.I.), she wrote TLC's 1999 smash hit "No Scrubs." Burruss has also penned jams for Mariah Carey, Destiny's Child, Boyz II Men, Alicia Keys, and Faith Evans. The singer-songwriter has a daughter, 6-year-old Riley, from a previous relationship, and a boyfriend.
Burruss fills the spot vacated by DeShawn Snow, who is the wife of Cleveland Cavaliers NBA player and NBA TV announcer Eric Snow. She was known on the show for her ridiculously large house and extensive staff, as well as a rather poorly received fundraiser she threw for the DeShawn Snow Foundation, which helps teenage girls with self-esteem issues. When the news came out that Snow would not be joining Housewives for season 2, she was quoted on Essence.com as saying a producer called her "and said that I was 'too human for a circus show' and that because the show did so well, they are about to pump up the drama and they didn't think that I would fit in." Snow is now pursuing a degree in divinity.

SOURCE
Be the first to receive breaking news alerts and more stories like this by subscribing to our mailing list.