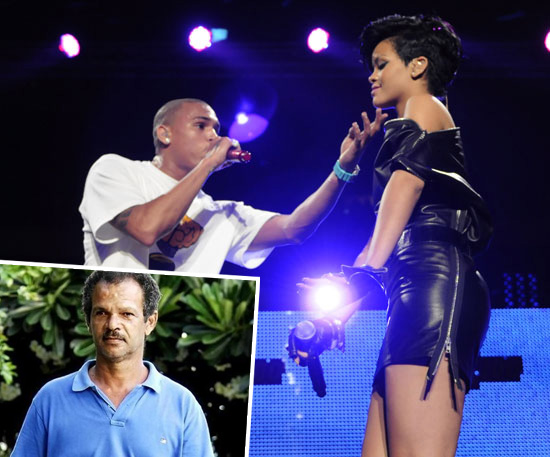 It's weird how all of these media outlets have a direct line to Rihanna's father, Ronald Fenty. Homeboy sounds like he's on payroll now and using this situation for a few minutes of fame. US Magazine got a little "press time" with the pop singer's father shortly after it was announced that Chris Brown was being charged with 2 felony counts of assault and criminal threats. He told them how "someone" had a hold on her and how she's changed her number so now he can't even get in touch with her.
US: What was your reaction after hearing Chris Brown was charged with two felonies?
Fenty: I don't know how to react. Chris is a very talented guy. I still think he's a little immature for Rihanna. Justice can never be served in this situation. He can't feel the pain she felt. I don't believe in hitting a woman. I hope everything works out better for them. I don't feel happy or sad. He's in the court's hands. Let justice prevail.

US: Have you seen the new police report that details Brown biting, hitting and threatening to kill Rihanna?
Fenty: I haven't seen anything. I hear so many things. I don't know what to believe until I see it myself. Rihanna's mother is telling me that she hasn't heard anything from her [Rihanna]. She said the last she heard Rihanna was well.

US: If those reports are true, how upset are you?
Fenty: I don't know what to say, honest to god. I've been hearing so many stories. I don't feel any pain anymore. I've gone numb. I've heard so much. But I can't get on to her. Her mother can't get on to her, her brother told me she changed her email. Somebody has a stranglehold on her. I'm lost.
US: I know you've been speaking with your daughter over text. Is she no longer reachable?
Fenty: I'll text the old numbers she had, and I call them. One girl answered, and she said, "This is not Robyn's number anymore." I asked, "Do you work for Robyn? Do you deal with Robyn?" And the girl hung up, so I don't know what's going on anymore. I'm lost.

US: What was her last text to you?
Fenty: [She] said, "Daddy, I miss you." And that's it. And I could not reply. I saw a number and texted back, "I miss you too." And I didn't get another reply from her.

US: Obviously, you still support her.
Fenty: Yes, of course. Anyone in my family, I'm there for them. All of my kids, I'm there for them. Rihanna's no exception. All of them I would support. I would tell them where they go wrong, I'd chastise them when they do s–t, but to be honest with you they have their own life to live.

US: What would you say to Chris Brown if you saw him today?
Fenty: I would tell Chris, "Don't ever try again, don't even think about it." I'm hurt and disturbed at that scenario.
Be the first to receive breaking news alerts and more stories like this by subscribing to our mailing list.