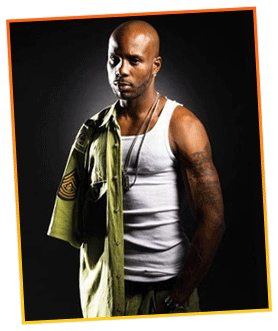 It was reported last week that fallen rapper (yes, sad we know) DMX, who is currently serving a 90-day prison sentence in Maricopa, Arizona, had allegedly assaulted a prison guard following a verbal dispute. Apparently, the correctional officer said some things DMX didn't like and the rapper allegedly threw a tray of food at the officer, which subsequently resulted in DMX being rebooked on suspicion of aggravated assault with the Maricopa County Sheriff's Office. But the rapper denied the allegations saying that they were just another attempt to destroy his credibility.
"Many of you know me as DMX but right now I am speaking to you as Earl Simmons," he told TMZ. "For the record, I want to state I did not physically touch or hit an officer. This is just another attempt to destroy my credibility."
So what say you, GOT? Do we believe him or does he need more people? We're going to go with him needing more people. That negroid has gone off the deep end. He couldn't even keep his cool for 90 days, SMH…
Be the first to receive breaking news alerts and more stories like this by subscribing to our mailing list.