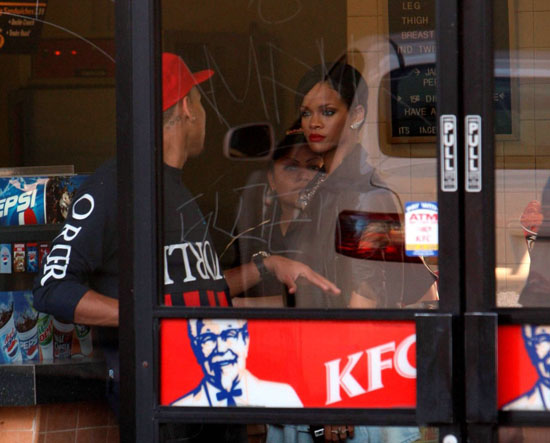 "Sources" in this whole Chris Brown and Rihanna story seem to come a dime a dozen. Anyway, another "source" said that Chris Brown basically beat the sh*t out of Rihanna. They mention her looking "distraught" and "in a lot of pain," in addition to her having a black eye, contusions, a swollen lip, etc.
"Chris knocked her around," a source close to the couple tells PEOPLE. "Black eye, blood, bruises. She had to be treated by a doctor." A police source confirms to PEOPLE that the singer suffered a black eye as well as "a swollen split lip and two red and purple contusions on either side of her forehead." The source, who described police photos of Rihanna, added, "She looked distraught and in a lot of pain. Her eyes were closed because she was looking down."
The Barbados-bred beauty, 20 – who is currently in "a safe place," says a friend – is cooperating with detectives, according to the Los Angeles Times. Los Angeles Police Chief William Bratton has said he expects the case will be handed over to the district attorney's office on Tuesday or Wednesday. At that time, the prosecutors could charge Brown, 19, with more crimes.

The case could be affected by how much Rihanna is willing to forgive her boyfriend. "Prosecutors back off somewhat when they see a couple trying to work out their own issues," says Steve Sitkoff, an L.A. defense attorney. But, says the friend, "I would be so sad if she went back to him."

SOURCE
Black eye? blood? bruises? Pics or it didn't happen. What the f*ck would make Chris Brown go off on her like that?
Be the first to receive breaking news alerts and more stories like this by subscribing to our mailing list.