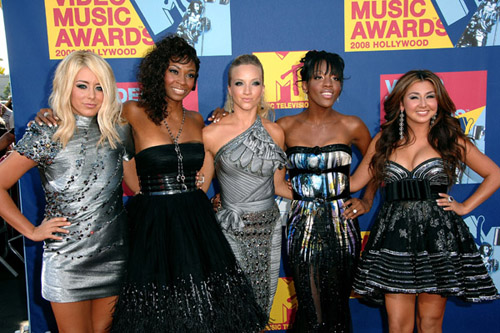 Out of the three ladies left in Danity Kane, only two (the two furthest to the right of the pic above) showed up to an important meeting, according to Dawn Richard. Rumors had been circulating the 'net for weeks talking about how Shannon had left the group, but now since Dawn has brought everything to light, those rumors are obviously true. In an interview with MTV, Dawn talked about how she feels about the group's break-up and even mentioned that Diddy is "devasted" about the whole situation.
On Danity Kane's split:
"I'm shocked," she said of Danity Kane's dissolution, which has saddened and angered fans. "You can tell by my answers — I really don't have them. It's devastating to talk about this over and over again. It is crazy! It doesn't even make sense. I still can't understand it."

On Diddy's push for the best:
"Puff only hangs with people who break their necks," she said. "I don't think he's even on that tip yet [regarding a solo career]. He just wants to see how great I can be at what he tells me to be great at, and that's what a businessman does. He wants his employees to be the best.It makes you great 'cause it challenges you," she added. "I want to learn. I want to be where he is mentally because if you can be there, you have mastered this interest. And that's brilliant. I want to be here. I'm trying to stay here. I thought everybody was on that plan."

On Diddy's devastation:
"I think he's devastated. I think he thought people would get over it 'cause he's a man," Richard said. "He's just confused. I think that's what makes him crazy the most. He's like, 'I'm the master of all of this, and they totally pulled the wool.' I think he's bitter and angry."
All of this happened so fast! How can so many people f**k up a successful girl group (the ONLY successful girl group since Destiny's Child went solo) in such a short amount of time?
Be the first to receive breaking news alerts and more stories like this by subscribing to our mailing list.