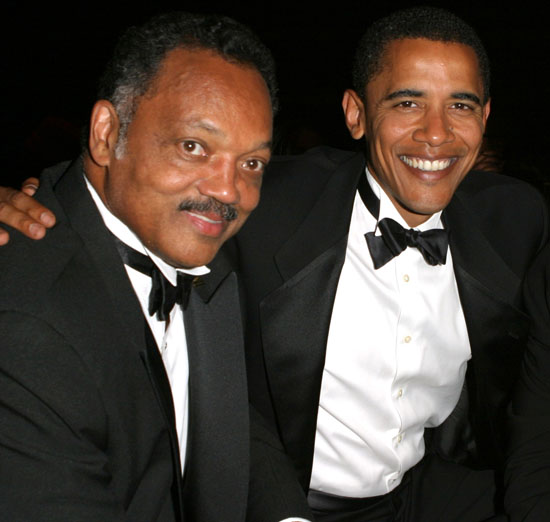 Rev. Jesse Jackson, Sr. was asked by Essence to write an open letter to President Barack Obama. In the letter, he mainly talks about ways to improve the future of our country by investing in the education of our youth. Check it out below, and after the cut.
Dear Mr. President:

What a joy and relief it is to be able to salute you as President Obama. Congratulations on a magnificently run campaign. Your discipline, vision, strength and courage will take America and the world a long way. Now that we have made it through the courtship of the primary season, the engagement party in Grant Park on November 4th, and the wedding on January 20th, we're entering into marriage—the final stage, one that is full of challenges.

It's high noon in our politics, where hope abounds. But it is midnight in our economics. But we have hope that the darkness will lead to a new light that will shine even brighter. We are in a time of the worst economic crisis of the last half century, and amid expanding wars and conflicts in Iraq, the Middle East and Africa. The two great themes of ending poverty at home and unnecessary wars abroad must dominate our priorities.

We need an economic stimulus. We also need equal protection under the law, which we've never had. Those who have been dealt the most inequality deserve targeted stimulation. Our character is measured, as you mentioned in your Inauguration speech, by how we treat the least of these. The least of these are gripped in poverty, high infant mortality, less access to capital, first-class jails and second-class schools, the highest victims of home foreclosures. They need targeted job creation and job training to offset targeted discrimination and denial leading to structural inequality. They need to be able to restructure and modify their loans, real foreclosure relief to save their homes.
Mr. President, I applaud your recent proposals to recommit our nation to education and invest in our most valuable asset, our youth. As you do, I'd like you to consider the RainbowPush Education Stimulus Plan, a simple yet sweeping plan to help families finance college costs that are steadily putting higher education out of the reach of most Americans. I propose that students holding and applying for college loans should be offered interest rates that do not exceed 1 percent—the same favorable terms that are being offered to large banks by the federal government. It's simply a matter of fairness.

Currently, students are generally forced to borrow loans with interest rates that range from 4 to 8 percent. Since that's inadequate to pay the costs of tuition and housing, most of them borrow from the commercial banks with 12 to 14 percent interest rates. Yet, these are the same banks that can borrow from the federal government at 1 percent interest; it's like scalping students. Many students must also finance their education with credit cards that carry interest rates of 20 percent or higher. As you know from your personal experience, graduating students will be saddled with debt for decades to come.

It gets worse when the students who get the loan cannot start payments within six months and are then penalized. As jobs are leaving, chances are they cannot start working in six months and need a longer grace period. Furthermore, the schools that lend them the money are penalized if students default on their loans; this pattern must end.

Through this 1 percent student loan program, along with the expansion of the Pell Grant program, which should correspond with the cost of the average college education, these programs will go a long way in developing the next generation of intellectual talent and leaders of our nation. This is an opportunity we cannot afford to pass up. We must go another way and seek the change that you eloquently talked about and promised.

Section Five Voting Rights Act, the key to political enfranchisement for all Americans, is now in peril as the Supreme Court reviews its validity. We must fight for the Voting Rights Act and prevail. Lyndon Johnson was right in his vision of a Great Society and the War on Poverty. We must build up on that great democratic tradition and carry it forward today.

Lifting the boats at the bottom is our moral challenge. Our foreign policy must place a priority on the escalating Middle East crisis which affects the whole region. One thousand lives were lost in the Gaza crisis while 3,000 died from cholera in Zimbabwe. Children in Haiti—100 miles off our shores—are eating mud pies as a staple. We must have one set of rules and standards and not lure Cubans to come to U.S. as refugees, and then deport or jail Haitians.

Twisting words sometimes has deadly consequences. What is an economic political refuge? Well, they are all human beings fleeing for their lives.
We're anxious to work with you, Mr. President. To follow through on Dr. King's last message, brought forward on his last birthday celebration, let us gather the moral courage to end poverty at home and end unnecessary wars abroad. I'm convinced that, yes, we can. We will. We must.

Keep hope alive.

Reverend Jesse L. Jackson, Sr.
President and Founder
RainbowPUSH Coalition, Inc.

SOURCE
PHOTO: GETTY IMAGES / AFP