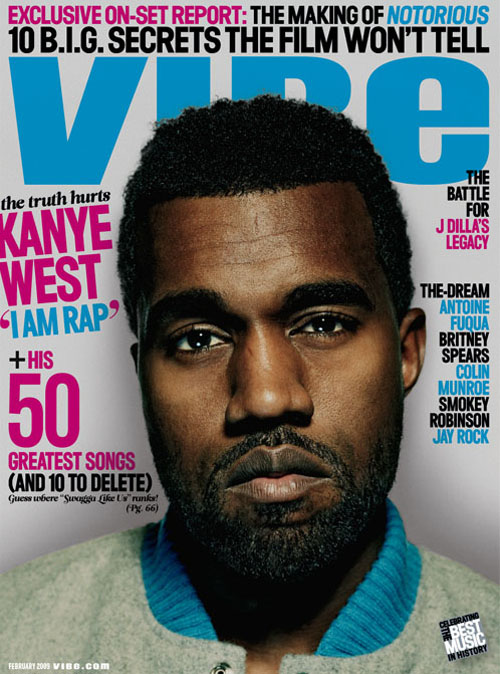 One of our favorite MCs, Kanye West, will we  be the face of the February 2009 issue of VIBE Magazine. In the issue, Kanye talks about his recent incidents with the paparazzi and even talks about the album, 808s & Heartbreaks, of which he feels was his greatest yet. I personally don't feel that 808s & Heartbreaks was better than Graduation but according to the issue, Kanye thinks otherwise.
Kanye Vents On The Paparazzi:

"I haven't done anything violent. They make it seem like I actually went and hit the paparazzi. I haven't. I was restrained. I'm good at restraining myself from committing violent acts. I know how to control my temper. That one paparazzo made it a bigger deal. I just put my hand up and he felt like he had more right to my personal space than I did. I put my hand up to stop him from shooting me."

Kanye on 808s & Heartbreaks:

"I do think it's my best album to date. No, I actually know this is my best album to date. Do I think it will be my best album ever? No, Ill improve. Do I think there are mistakes in it? Yes. There has to be. I'm a human being. But I think it surpasses Graduation. These 12 tracks are going to resonate more than any 12 tracks of any album this year."
Make sure you go pick up the new issue when it hit stands.
Be the first to receive breaking news alerts and more stories like this by subscribing to our mailing list.