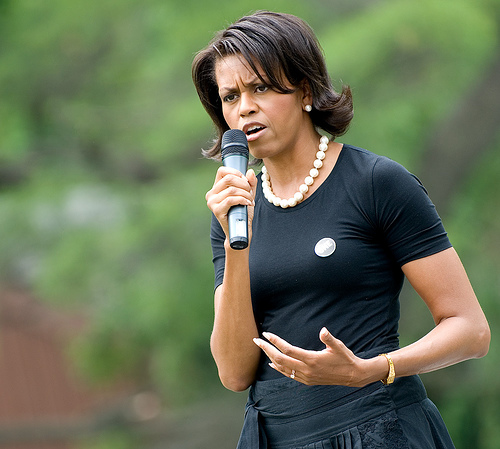 Someone please tell right wing and controversial political commenter Ann Coulter to stop drinking on that "hatorade" because it's definitely not a good look for her. Apparently she's been saying some not so nice things about President-elect Barack Obama's wife Michelle Obama.  According to her latest book which is said to be published next week, titled "Guilty: Liberal 'Victims' and their Assault on America," she accuses the liberal left of playing the victims when in fact of course they are the victimizers.
But wait … the fun doesn't stop there.  She then goes on to bash Mrs. Obama about her choice of style in which she says she is an imitation of Jackie O's personal style.  Jackie O was the first lady and wife of President John F. Kennedy.
Coulter wrote, "Her obvious imitation of Jackie O's style – the flipped-under hair, the sleeveless A-line dresses, the short strands of fake pearls – would have been laughable if done by anyone other than a media-designated saint."
She continously hurled more hits at the soon to be first lady stating that "Cindy McCain, the wife of vanquished GOP nominee John McCain, "dressed well without freakishly imitating famous First Ladies in history."  Coulter also referred to Michelle Obama as a "saint" and "Mother Teresa" and suggests that her public service career "advanced in lockstep with the political advancement of her husband."
Coulter couldn't finish her slaying without taking a few jabs at Mr. President-elect Barack Obama, while referring to him as "B. Hussein Obama" and argues that the media "literally wanted to have sex with him."
Can we say that a few of the Republicans are still bitter about the win?  Shame on them.
Be the first to receive breaking news alerts and more stories like this by subscribing to our mailing list.