AKON SETS THE RECORD STRAIGHT ABOUT HIS CRIMINAL PAST » Hip-hop star Akon (real name: Aliaune Thiam) cleared up allegations of him fabricating his criminal past to create this "gangster image" we all know him for. Just earlier this year (April 2008 to be exact), The Smoking Gun, a website famous for letting people know what's really up with these celebrities, published reports of Akon's true criminal past, making it known that the founder of Konvict Musik wasn't in jail for 3 years, as he had claimed in numerous media interviews and in the lyrics of his music. But in an interview with Access Atlanta, Akon said that the "three years" he had previously mentioned didn't represent one long sentence. Instead, they represented an accumulation of all of his run-ins with the law.
"I got caught up in cars and this and that. Kept going in and out of jail. Three months here, six months there, two weeks here," Akon said. "And it was to a point where I was like, 'This really doesn't make any sense. What am I doing?' And the last stretch I did was six months in Dekalb County (Georgia) after I was pulled over in a stolen car. So I guess when I was being interviewed, and I would say, 'Yeah I did about three years,' I wasn't saying I did a three year stretch, I was calculating the time from when I started to get in trouble to the time when I said, 'Enough is enough.' And I think that was mistranslated in the Smoking Gun article and other stories."
Yeah … usually when you say "I did 3 years in prison," it usually means you did three years in prison! Not 3 months here, 6 months there, a week here, 12 hours there, 72 minutes there. He knew what he was doing to get those album sales, SMH…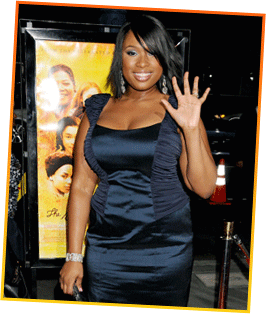 JENNIFER HUDSON WON'T BE RETURNING BACK TO "WORK" THIS SOON » Singer Jennifer Hudson, who recently went through a real-life nightmare, is reportedly not ready to return to work. According to a rep for J Records, the former American Idol contestant was set to record her new music video for her latest single, "If It Isn't Love," this week in Los Angeles.
"The video was set up before the tragedy and she felt like she should finish what she started, but she's realized that she's not ready to go back to work. It's too early," the J Records rep told US Magazine.
But according to a personal representative of Hudson, the J Records rep didn't know what they were talking about, calling the statement "erroneous."
"The video shoot was never confirmed, so there was nothing to cancel," the personal rep tells US Magazine. "[J Records' statement] was erroneous."
This would be the first time Hudson would be seen out in public since the shooting deaths of her mother, brother and young nephew. The man responsible for their deaths, William Balfour, was officially charged earlier this month. Personally, I know if I lost my mom, brother and nephew all at the same time, it would be a looooooong time before I was ready to get back to "work." Take all the time you need, J Hud!
STEVIE WONDER TO "DANCE WITH THE STARS?" » In a recent radio interview, music legend Stevie Wonder responded to rumors of him possibly being on the next installment of the hit show, "Dancing With The Stars."
"It'd be fun," Stevie says. "It's not impossible, but right now it's just a thought."

104.3 MY FM's "Valentine in the Morning" host Sean Valentine also asked the singer about his dancing ability.

"Come on," Stevie says. "You've got to think. If I have 7 children, I've got to be able to dance right?"
Well, if a chick with one leg can do it … why not Stevie?
Be the first to receive breaking news alerts and more stories like this by subscribing to our mailing list.