HOSEA THOMAS CHARGED FOR MURDER OF T.I.'S FRIEND » The man suspected of shooting T.I.'s assistant and childhood friend, Philant Johnson, was found guilty by a jury last week. We discussed T.I.'s testimony a couple of weeks ago. 34-year-old Hosea Thomas was on trial for the shooting death of Philant Johnson and firing at T.I. and his entourage following a May 2006 concert in Cincinatti. In T.I.'s testimony, he told the court that he sincerely believed those bullets were meant for him.
T.I. told jurors that he believes the bullets fired at him and his entourage during a gun battle two years ago were meant for him, but they struck and killed Johnson, his assistant and longtime friend. T.I., whose real name is Clifford Harris, was not injured in the shooting on Interstate 75. Harris had been at Club Ritz following a post-concert party, and police said his entourage became involved with Thomas in a dispute over access to the club's VIP area.
T.I. said after his van drove away from the club, he spotted another vehicle moving up from behind in traffic, and then shots rang out and he took cover. The rapper was not asked to identify Thomas as the shooter during his testimony, but prosecutors said Thomas's brother, Padron Thomas, has identified him as the shooter. Padron Thomas, who was also charged with murder and felonious assault, was driving a Jeep that allegedly chased the vans used May 3, 2006, by T.I. and his entourage. After the verdict, Hosea Thomas' friends contended that he was not involved in the shooting.

"He wasn't even involved with them. He was just a friend of theirs and went out to the club with them. It was just like everybody testified, when he got hit upside his head, he was trying to get himself together," Kimberly Thomas said. "He wasn't even involved in the fight."
In addition to the murder charge, Thomas was also convicted of felonious assault and illegal possession of a weapon after a felony conviction. His sentencing will be held December 23rd. And as far as his time behind bars goes, he faces up to a maximum of life in prison, with a 20-year minimum sentence.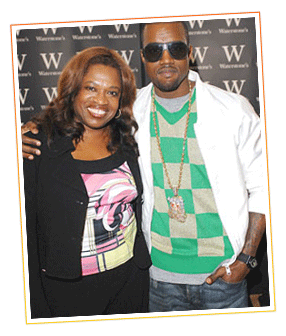 KANYE WEST'S COUSIN NOW SUSPECT FOR DEATH OF HIS MOTHER » The investigation of the shocking death of rapper Kanye West's mother, Dr. Donda West, continues, and now the late Donda West's nephew is a person of interest in relation to her death.
According to People, Stephan Scoggins, a registered nurse, was watching over his aunt during post-surgery in November 2007. Caring for her alongside Ye's assisant and a friend, Scoggins reportedly left Donda's bedside to attend a friend's babyshower immediately following her operation the day before. She passed away the same evening and investigators are currently pursuing Scoggins to find out how large of a role his absence had on her death. California's Department of Consumer Affairs is reportedly issuing subpoenas requesting involved persons "to testify in the matter of the investigation of Stephan Scoggins," according to People.

Despite doctor's requests that she stay hospitalized after surgery, an autopsy report shows West's intent to return home. "[Donda] opted to return to her home for care," it reads. "Even though she was advised that she receive post-operative care at another facility." If Scoggins is held responsible for West's passing, he could lose his nursing license.

[ SOURCE ]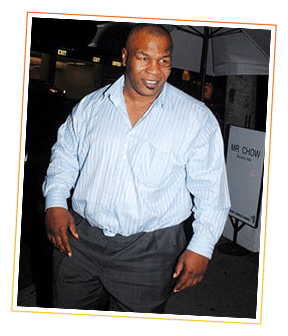 MIKE TYSON GETS TICKET ON THANKSGIVING DAY » Your boy Mike Tyson got into a little trouble with the law the morning of Thanksgiving Day after he rammed his SUV into the visiting gate of a private community in Las Vegas. According to a local ABC affiliate, Tyson pulled his black Cadillac Escalade up to the southern part of Valley at Monarch Estates at around 7:45 A.M. Thursday morning.
"He went to the visitor's gate, but instead of driving through the gate when it opened, he veered off and hit the closed resident's gate," the tv reporter said. "Tyson reportedly backed up and ripped the gate down. Metro was called, and Tyson got a ticket."
After the police were called to investigate the scene, the former championship boxer was given a breathalyzer test, which he passed. He was eventually allowed into the community after he was given a ticket for the incident.
No further charges were filed since he'll most likely pay for the damages to the gate and his car. You can do sh*t like that when you're rich!
Be the first to receive breaking news alerts and more stories like this by subscribing to our mailing list.