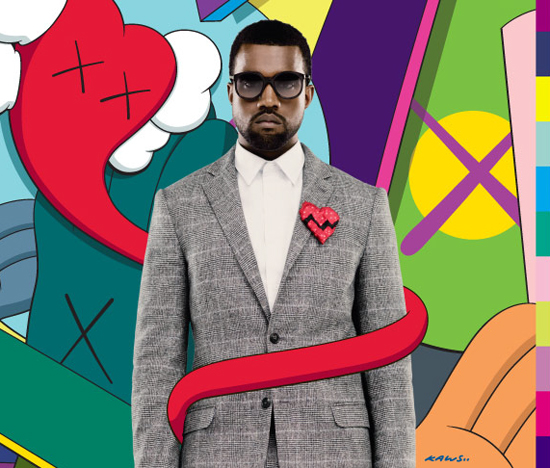 Kanye West – 808's and Heartbreaks – Dropped out of college. Then he re-enrolled, and, on his third album, finally graduated. Next, he was supposed to get a "good ass job."
Instead, he had his heartbroken. With life, expect the unexpected. Kanye West has had one hell of a year. West's first and only true love, his mother, Donda West, died from surgery complications. He's been arrested twice after clashes with the paparzzi, and he even called it off with his fiancé, Alexis PhiferHe's lived through blow after blow, and the album itself is a reflection of how reality can reflect art or vice versa.
So, with all that Kanye has been through thus far, it shouldn't shock anyone that he shelved his original album titled, Good Ass Job, and recorded an album full of loss, vocal robots, and heartbreak.

"Say You Will" opens up and the production is so dramatic and intense. We were overwhelmed just listening to West sing his pain. The album features artists such as Young Jeezy, Lil' Wayne, and Mr. Hudson. West takes you on a roller coaster ride with auto-tuner and ridiculously addictive production. He even takes a few jabs at his ex, Alexis Phifer with lines like: "Just a spoiled little L.A. Girl" and "Who knew she was a drama queen that'll turn my life to Steven King" and "You're like the girl from Misery." Certainly, he made sure she knew she did her part in his heartbreak.
Stand out tracks on the album include the following: "Paranoid," "Robocop," "Bad News," "See You In My Nightmares," and "Coldest Winter."
Overall, the album album's production is incredible. Kanye West never slips with the 808. However, this isn't his best work but this isn't taking away from the album. The album is enjoyable and is one hell of a banger.
If you're ever feeling down and need some inspiration – Purchase, Purchase, PURCHASE!!! If you and your girlfriend or boyfriend break up – Purchase, Purchase, PURCHASE!!! If you lose a parent, guardian, etc – Purchase, Purchase, PURCHASE!!! If you can't get those haters off your back – Purchase, Purchase, PURCHASE!!! If you find yourself saying, "Life isn't fair." This album is a must – Purchase, Purchase, PURCHASE!!! Kanye West gave us his pain and we'll leave you all with, "Street Lights."
Be the first to receive breaking news alerts and more stories like this by subscribing to our mailing list.