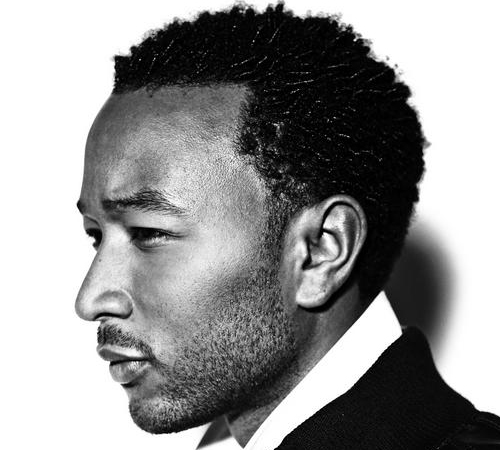 John Legend's new album, Evolver, has been out for some time now, and everyone has been talking about it! "Green Light," featuring Andre 3000 has been one of our favorite songs now for a minute. So, we had no other choice but to review the album. Producers that are featured on this project are Kanye West, John Legend, Malay, KP, Midi Mafia, Will.I.Am, Trevor Horn, Devo Springsteen, The Neptunes, Supa Dups, and Teddy Riley. The album has been considered to be John Legend's most heavy pop influenced effort.
The album opens up with "Good Morning," a very classy and elegant introduction. "Green Light" slides in funky, loud, and raunchy, sounding like an over-the-top version of Paul McCartney's "A Wonderful Christmas Time." The track is unlike anything John Legend has done. It's a little bit more aggressive sexually and Andre 3000 brings out the edge to the song.
"It's Over," featuring a broken-hearted Kanye West, follows. The break up song is rather simple, and it's unlike the freshman and sophomore John Legend. With his latest effort, John Legend's approach is a lot more forward and cut dry. "We lost the fourth leaf clover," stated by Kanye West, who loves the vocal auto-tuner on this track. The song is simple but nonetheless refreshing to hear Legend. "Everybody Knows," "This Time," "Satisfaction," "Take Me Away," and "I Love, Love You" are smooth songs that are lovely. They aren't quite the original John Legend you're familiar with but these tracks definitely hit close.
One of our personal favorite tracks are "Quickly" featuring Brandy. And there is a mere bias on this track due to it being Brandy. We love Brandy's voice because it's alluring to me for it's airy, breathy texture. "No Other Love," featuring Estelle is a hard hitting song and would make an excellent single. The song is beautiful and it's sampling a glitzy version of reggae. "Satisfaction" and "I Love, Love You," are two other personal favorites.
Overall, the new John Legend album is a decent effort. John Legend hits the album to a decent side of the field, and everyone should be able to take something from it. This would definitely make a great Christmas gift. You should PURCHASE, PURCHASE, PURCHASE!!!!
Be the first to receive breaking news alerts and more stories like this by subscribing to our mailing list.