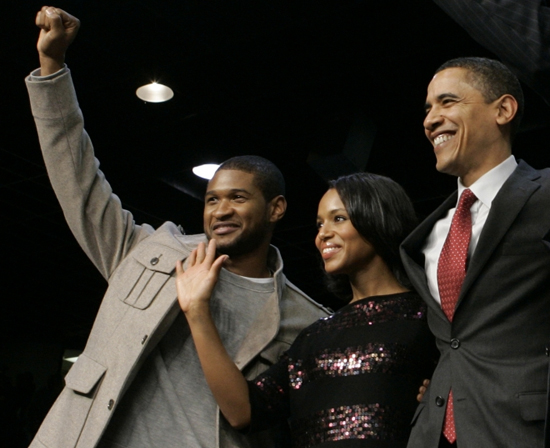 Usher claims that he was speechless Tuesday night when it was announced that Barack Obama would be our new president beginning next January! He also made the claim that he would have moved out of the country if hell somehow reached arctic temperatures and McCain had won.
Barack Obama doesn't represent a color. He represents change. I think this sets us off in the right direction in terms of change of tone. … The fact that so many people were encouraged by [his] words … by his message. It was never self-serving, it was always for country. Country first!"

In terms of his own personal reaction to the outcome of the election, the 30-year-old added: "Man, this is incredible, after a lot of campaigning, and then a lot of prayer … It's so incredible to see that this historical thing has happened, man. Before it was a thought of what happens if he doesn't win," the singer continued. "The public service that went into this and the encouragement that's come out of it, it's just incredible to see it happen."

The musician also revealed he was prepared to uproot himself temporarily had things turned out differently. "In the event he didn't win, I gave some thought to leaving the country," he conceded before happily interjecting that such a drastic measure would not be necessary. "I'm proud to be an American." [ SOURCE ]
Be the first to receive breaking news alerts and more stories like this by subscribing to our mailing list.