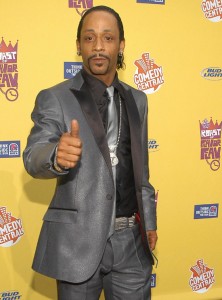 This weekend, our friend Katt Williams decided it'd be cool to drive around NYC with illegal weapons and leave a Mercedes and an Escalade illegally parked on Broadway.
Police noticed that the SUV was missing a license plate and that three guns were in plain sight inside the vehicles. When Williams emerged from a nearby building, he told the cops that the vehicles were his, and the officers handcuffed him. Eighteen hours after being arrested, the comedian posted $25,000 bond and was released right around the time he was supposed to hit the stage at Carnegie Hall.

"Wearing baggy jeans and a satin shirt, [Williams] … spritzed himself with cologne and jumped into a black limo," the paper reported. "Half an hour later, it screeched to a stop near the rear stage entrance on West 56th Street, and Williams, surrounded by bodyguards, jumped out and disappeared into the hall."

Hitting the stage just over an hour late, Williams reportedly apologized to the audience, telling them, "I'm not moving at my usual pace. I just got out of jail 35 minutes ago." He assured the audience that he raced to the show because of them, though, not for the payday. "I wasn't thinking about the money — maybe because they paid me in advance." [ SOURCE ]
So much illegal activity in one weekend. But as they say in show business, "the show much go on!"
Be the first to receive breaking news alerts and more stories like this by subscribing to our mailing list.